A LITTLE SLICE OF PARADISE IN ALBERTA
BY:  HANK W. KRIASKI
Several weeks ago my spouse and I were invited to an acreage south east of Calgary. Upon arriving at the location we were greeted by the sight of palm trees with coconuts. No we didn't go that far south. On a four acre lot owned by Ernie and Divine Cayetano we got our viewing  of an incredible personal project. Several steps onto the lot it was evident that gardening is this couples' passion.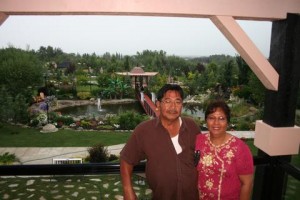 At the front entrance the sights unfolded with a concrete and steel coconut palm tree on the left.  On the right a landscaped feature consisting of a pond,fountain and bridge with the Philippine flag raised.  Planter beds spaced around the pond filled with various perennials, shrubs and trees placed tactfully with green space (grass) intertwining between the beds and trees. Walking around the area, the sights changed continually keeping an individual interested. The site had various heights ,shapes , colours, interest and will be even more dynamic with fall colours.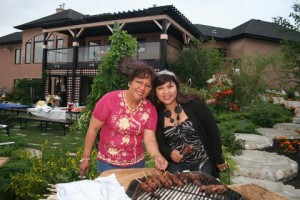 Back yard has stepping pads (concrete& stone) pathway sloping and curving down from the deck of their house to another pond. As one descends, both sides of the pathway are bordered by various mid height perennials in yellows and reds. Roses are interspaced along with some trees on the left and more green space. The right side which slopes away from the house is filled with walker's caragana, junipers and shrubs flowing down to a green space.
A grotto formation appears into view, very organically designed of dark grey concrete standing about 8ft by 12ft. The formation has cavities to accommodate annuals like patients, petunias, fuschias and other plants cascading over the formation. A 20 x 50ft second pond  also with a bridge and has white crushed rock that defines the slope from waters edge to planter beds.  Again various perennials ,shrubs and trees surround the pond. As one crosses the bridge left side has a water spout and on the right pond edge is a rock formation  with water cascading into the pool. Three more concrete banana trees stand on the opposite bank as we crossed the bridge leading to a pagoda. The path  meanders about the property to a Buddha and a children's play area and house. Two thousand trees of various sizes, shape and colours fill in the background. Perennials, shrubs ,trees, rocks and grass make it that little slice of paradise that Ernie and  Divine desire.  Truly indeed, it is a little slice of paradise for the Cayetanos.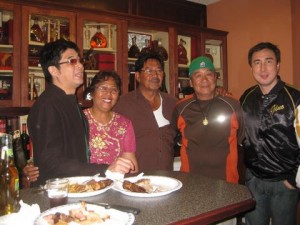 WE WOULD ALSO LIKE TO WISH KUYA ERNIE A HAPPY, HAPPY BIRTHDAY FROM  THE STAFF OF PINOY TIMES, CONNIE AND HANK KRIASKI!