The Globalfest Refugee Camp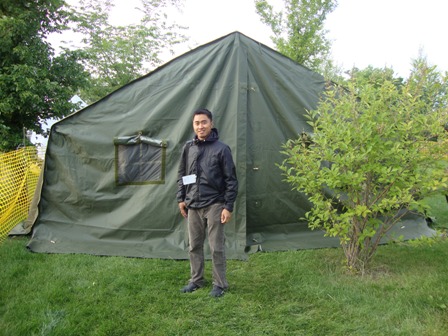 By Melvin Laureano
Aside from the spectacular fireworks display, Globalfest 2009 had also brought a different kind of experience to the people, the "mock refugee experience" held by the Canadian Red Cross. The Bridges of Hope Refugee Camp is a simulated camp setting where everyone can have a chance to walk in the shoes of a refugee which will raise his/her awareness about the lives of the refugees leaving a sense of empowerment. This was the fourth year of the Bridges of Hope in the Globalfest.
In this short article, I will share to you a short story about my refugee camp experience. Before entering the camp, I was given an identity card. I will portray a 15 year-old boy named Shadrach. Several years ago, our village was attacked by rebels. They kidnapped me and my sister. They forced me to do what they want and if I refuse, they will kill me. They gave me a gun and made me fight for them. I was forced to attack innocent people – threaten them, beat them, steal from them – even kill them. I feel like I became the most evil person and I don't recognize myself anymore. I'm afraid that no one will believe me if I tell them that this is not my choice. I thought there was no more escape but one day my rebel band was ambushed. Fortunately, I managed to run away. I joined the small group of citizens fleeing the country. I was injured in the ambush. My wounds must be cleaned to prevent possible infection.
First, we were taught how to get out of a minefield before reaching the camp. The moment we reached the Hope Refugee Camp, we were considered and treated as refugees. We were registered by the UNHCR personnel and gave us a short briefing about the camp. Next, we were sent to a medical officer who informed us about the cholera outbreak and other diseases inside the camp. Then we moved to the Ration Station and shelter exhibit. Inside the simulation camp, my eyes were opened to the reality that refugees around the world are experiencing right now. For us who are living in Calgary, we should always be thankful that although we sometimes face hardships… Hope, Peace and Freedom are always in our hands. Let us pray for the safety of those innocent people who are fenced by dangers in the midst of war.