Rhubarb – The Main Ingredient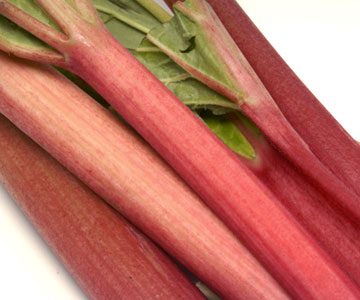 "Rhubarb"
***THE MAIN INGREDIENT segment aims to inform, educate, share skills and knowledge. It also hopes to satisfy most of our TASTEBUDS (the five elements of taste perception: salty, sour, bitter, sweet, and umami or savoury). If you want to request INGREDIENT(s) be  featured for its uses, nutrient contents and/or cooking tips, also for comments/suggestions, please e-mail: pdutkoski@shaw.ca or s-mail: c/o M. Pangan-Dutkoski 18 Farnham Drive, SE Calgary, AB T2H 1C6. ***
Rhubarb is  a wonderful plant worth exploring from the botanical view to culinary use. Its unique sour/tart taste  makes it a favorite in many pies, sauces and desserts. It surely deserve its earned "pie plant".
Rhubarb is considered a very healthy food for its low caloric value as well as medicinal properties.  Rhubarb is very rich in macro and micro nutrients  including vitamin C and dietary fiber. The roots and stems contain generous amounts of anthraquinones, thus sporadic use of rhubarb has high slimming effect, thanks to its cathartic and laxative substances
Currently, this crop is considered fruit  as it is often used for desserts and sauces rather than in savoury dishes. Information and cooking tips are now available in many books, websites and horticultural events/shows to anyone interested in gaining an understanding and appreciation of this "used to be" fine vegetable.
There are  many varieties of rhubarb colors including crimson red, speckled pink, yellow and light green. The colour results from the presence of anthocyanins and is not related to its suitability for cooking and/or yield. A number of varieties of rhubarb have been domesticated both as medicinal plants and for human consumption. However, only rhubarb stems are edible; other parts such as leaves and flowers are toxic. Rhubarb stalks are commonly found in supermarkets. Fresh rhubarb is prized by gourmet cooks.
Rhubarb's origin dates back 3000 yeaars ago to the Mongols of Asia, particularly The Tartar Tribes. The origin of the Greek words rha (river) & barbarum (foreign), which translates as "wild plant growing along the   damp river bank of  the River Volga".
Rhubarb is a seasonal plant. Obtaining fresh rhubarb out of season used to be difficult in colder climates, such as Canada, USA or The UK. However, this sour plant grows all year round in warmer climates. In colder climates the parts of the plant above the ground completely disappear during winter, and begin to re-grow  from the root in early spring. Thanks to technology, this perennial plant is now grown in many areas, and green houses, which make it available all year round. Plant enthusiasts or those trying to be, will gain higher hopes as rhubarb can successfully be planted in containers, so long as the container is large enough to accommodate a season's growth. Once planted, rhubarb plantings remain productive up to 15 years.
Uses
Rhubarb makes excellent jam, sauces, cobblers, tarts and crumbles and of course pie fillings. It can also be used to make wine.  For my own curiosity, I attempted to make a marinade out of it. If you try  to you'll discover it's not a bad idea after all.
Medicinal Use
Rhubarb roots are used in traditional Chinese medicine. It serves as a strong laxative, astringent effect on the mucous membranes of the mouth and the nasal cavity.
Toxic effects
Rhubarb flowers and leaves contain poisonous substances, including oxalic acid which is a nephrotoxic and corrosive acid that is present in many plants. The blade or green leaves of the plant are the part that is poisonous. They contain high concentrations of oxalic acid crystals which can cause serious problems when eaten.
GLOSSARY:
1. anthocyanins-A water soluble red, purple, or blue pigment in plants  that contains anti oxidant.
2.anthraquinones- a naturally occuring aromatic organic compound in  yellow light
gray ,  gray-green solid color that  is  used as laxatives, dyes and colors for cosmetics.
3.nephrotoxicity -poisonous side effects either by products or chemicals (medication) on the kidney.
The author has had 13 years of experience in the field of food and nutrition, research, community/public health and food services combined. A  Degree in Nutrition & Dietetics (Philippines.) and Food and Nutrition Technology Program (Canada).  Information presented in this segment  is  based on  nutritional books, online  searches and personal knowledge of the author.  Furthermore, all recipes featured in this segment are that of original creations of the author, and is intended solely for personal use of the end users. This article and contents are copyrights and patent pending and therefore, no portion/ parts or whole  can be re-produced for any other use other than stated above without the author's expressed permission. mbpd
TASTEBUDS & RECIPES
Here are a few of  my delicious  recipes that your  palate will discover to be very pleasing.
SAVOURY: Molded Rhubarb Salad

SAVOURY/SPICY:

Salmon Sinigang sa Miso/Rhubarb

Ingredients:

1 1/2 cup.  Diced rhubarb

1/2 cup.  Sugar

 Pinch of salt

1 (3 Oz.) Pkg. flavored gelatin (raspberry)

1 cup Cold water

2 Tbsp. Lemon juice

1 cup English  cucumber,  unpeeled, finely diced

6Ttsps  Whip topping (optional)

12  Cucumber  slices (garnishing)

6 Iceberg Lettuce Leaves,(garnishing)

Ingredients:

2 lbs  Salmon  steak

2 T  Miso paste

¼cup Tamarind juice, extract from seedless tamarind (available in Asian supermarkets)

2 cups  rhubarb – coarsely diced

½ head Chinese lettuce

½ cup Daikon or radish

½ Yellow onion, sliced

1 Tomato,  medium, sliced

1 Tbsp Ginger, julienne

3 Tbsps  Fish Sauce

1pc  Sili haba/Jalapeno

2 cups  Sabaw Sinaing

2 Tbsps Canola oil

Procedure:

Diced rhubarb and place in a pot over  very low heat.  Add  sugar and salt. Bring to a boil boiling. Don't stir or add any water. When rhubarb has simmered until tender, Remove from heat  and strain. Gather the juice and add the gelatin. Stir until dissolved, then add cold water and lemon juice. Cool. Then chill until it starts to thicken.. Pour into ramekin  cups to mold with diced cucumber at the bottom. Refrigerate until firm. Unmold .

Serve on lettuce cups garnish with cucumber slices and   whip topping .
Yield 6 servings

Procedure:

In hot pan saute onion and ginger in oil. Add miso and fish. When fish becomes opaque, add tomato slices, patis and simmer for 2 mins. Add sabaw ng sinaing, then continue simmering. Put diced rhubarb in  sealed ziploc bag and drop in  the pot with sabaw sinaing. When mushy, remove the bag from the pot and strain rhubarb to get juice Put juice back in the pot and add tamarind juice and sili. Bring to boil for another 5 minutes. Turn down the heat to medium and add radish .  Turn off heat and add  lettuce.

Serve over hot  on  a bowl  with  steam rice
Yield 4-6 servings

SWEET/SOUR: Rhubarb-Citrus Punch

SOUR/SPICY: Rhubarb Marinade

Ingredients:

1 Quart Rhubarb juice (made from 6 cups fresh Rhubarb-diced)

3 cups  Brown sugar

1 cup Pineapple juice

1 cup Orange Juice

Juice from 1 Lemon

1 Can Ginger ale/7 –up

Mint sprigs( garnish-optional)

Ingredients

1 cup Rhubarb juice

1/4 cup  Brown sugar

¼ cup water

½ cup  Pineapple juice

1c Gingerale

3Tbsps Patis

2Tbsps Sweet Chili Sauce

1Tbsp lemon grass extract

2Tbsps Cilantro, chopped

1 Tbsp. Pepper
Procedure:

·         Boil rhubarb (cover with 1cup  sugar and 1/2cup water) .When mushy strain to get juice.

·         Put juice back in kettle and add  2 cups sugar.

·         Bring to a boil for 5-10 minutes. Cool down.

·         Add the last 4 ingredients  and stir in ice.

·         Add garnishes

Note: Rhubarb base can be made up during rhubarb season and frozen for use later in the season

Procedure:

·        

Obtain Rhubarb extract

: (Boil rhubarb cover with ¼ cup water and 1/4cup sugar) When mushy strain to get juice.

·         In a small bowl, combine the next 3 ingredients

Add lemongrass extract ( add 1Tbsp water then squeeze to obtain extract)
Add  chopped cilantro, and  pepper
Marinate your favourite meat.

Note: Use as marinade for any meat: chicken, beef  fish or seafood

SWEET: Rhubarb De Leche

(Custard Squares) 

SWEET: Rhubarb-Buttermilk Muffins

Ingredients:

Crust

:

¾ cup all-purpose flour

¼  cup sugar

1/4 butter, 1 stick, room temperature

Filling

:

½ cup Condensed milk

1/4 tsp. salt

2 tbsp flour

4 eggs beaten

1 tsp. pandan flavoring or vanilla

2  cups rhubarb  simmered with ½ brown sugar 

Ingredients:

1 1/2 cups brown sugar

1/4 cup melted margarine

1 egg

2 tsp vanilla extract

1 cup buttermilk

1 1/2 cups finely diced rhubarb

1/2 cups  coarsely chopped almond nuts

2 1/2 cups all-purpose flour

1 tsp baking powder

1 tsp baking soda

1/2 tsp salt

Topping

:

1/3 cup sugar

1 1/2 tsp cinnamon

1 tbsp melted margarine

¼ c almond nuts

Procedure:

·         Preheat oven to 350F.  

Spray baking pan(8"x8") with non-stick

butter spray.

Blend flours and sugar together
Cut in butter using  fork.
Press mixture  in the pan
Bake for 10 minutes or until light golden brown.

Filling:

In a small pot, simmer diced Rhubarb on medium heat. Simmer just enough  to softened rhubarb.***Do not over cook.
In a large bowl blend condensed milk,  flour, eggs, pandan flavoring and cooked rhubarb and mix well until smooth.
Pour mixture over partially baked crust and continue baking for 25-30 minutes
Cut into equal squares.
Serve warm or cold.

Yield 16 squares

Procedure:

·         Preheat oven to 400F

Spray medium size muffin pans with butter non-stick spray.
In a bowl combine  brown sugar, melted margarine, egg, and vanilla and buttermilk.  Blend until smooth
.In small  bowl, stir rhubarb, and almonds. Add to  buttermilk mixture
In another ,sift together flour, baking powder, baking soda, and salt. Pour unto buttermilk mixture to  form batter. Avoid  over mixing batter.
Portion  batter  3/4 full (using #16 scoop) in each muffin mold.
Spread  topping mix  on top, sprinkle few almonds  then bake for 15-20 minutes until toothpick come out dry

Yield 18 muffins