2009 Penafrancia Fiesta Celebration Viva La Virgen!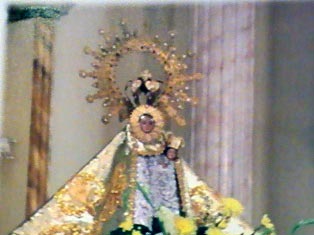 The September 19, 2009 Annual Dinner Celebration at the Greenwood Inn & Suites of the Our Lady of Penafrancia was a huge success and all is attributed to the hard work and labor of love that Hermana Mayor Lolita Miguel of Calgary dedicated to it.
Beaming with happiness in organizing such challenging task, Lolita Miguel worked sincerely and wholeheartedly.  Her enormous support and help that came from her family and friends overflowed immensely.  Such would have never been achieved had it been not for those who have maintained the same affection & respect that she upheld for the Our Lady of Penafrancia.
The Feast of Penafrancia originated in Bicol, and Bicolanos all over the world celebrates it with pride to pay homage to the Virgin Mary. In the Philippines, all roads and routes leads to Naga City in Camarines Sur where millions of Bicolanos troops to the city in celebration of the miraculous patroness of their region.  This has been part of Bicolano lore and legend through all these years.  It would be an incomplete saga they say, if there is no mention of the Virgin or Ina.  The strong devotion to the Heavenly Mother leads all Bicolanos to the shouts of "Viva La Virgen" as they bow and kneel on the ground in prayer.  The colorful floral procession carrying the Virgin slowly traverses the Bicol River in downtown Naga.
In Calgary though, the procession that Hermana Mayor Lolita Miguel organized started with men carrying the image of Our Lady and following them were the beautiful children and pretty young Misses dressed in white and elegant gowns under the "arkos" as they walked around with their dashing and debonair escorts.  This with the music and song rendered "Dios Te Salve" by the guests, filled the place with hymns of humility and respect for our Virgin Mother.
All was well as the night drew near and darker.  The dancing and celebration continued and all the guests were completely filled with satisfaction and is looking forward to the next year's celebration.
Congratulations!
by: Estrella "Tata" Delos Reyes