The Main Ingredient-Pumpkin and Squash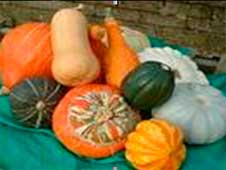 Pumpkin and Squash
*** THE MAIN INGREDIENT segment aims to inform, educate, share skills and knowledge. It also hopes to satisfy most of our TASTEBUDS (the five elements of taste perception: salty, sour, bitter, sweet, and umami or savoury). You can request INGREDIENT(s) be  featured for its uses, nutrient contents and/or cooking tips, and comments/suggestions, by e-mailing: pdutkoski@shaw.ca or s-mail: c/o Marietta Pangan-Dutkoski @ 18 Farnham Drive, SE Calgary, AB T2H 1C6. ***The author has had 13 years of experience in the field of Food and Nutrition, Research, Community/Public Health and Food Services combined. Earned the Degree in Nutrition & Dietetics (Philippines.) and Food and Nutrition Technology Program (Canada).  Information presented in this segment is  based on  nutritional books, online  searches and personal knowledge of the author.  Furthermore, all recipes featured in this segment are personally developed and/or original creations of the author, and are intended solely for personal use of the end users. This article and contents are copyrights and patent pending and therefore, no portion/ parts or whole  can be re-produced for any other use other than stated above without the author's expressed permission. mbpd
************************************************
Squash (Kalabasa) is considered  a versatile vegetable in the Philippines. It is widely use because its nutritional  content and economical value fits every budget.  The popularity of squash has made it a common household menu of arid dishes such as soup, vegetable, stews and even desserts. Contrary to the  bad connotations embedded to the name such as "huwag kang mag-uuwi ng kalabasa sa bahay" ("do not bring squash at home" which means  getting zero score from a school test or " huwag kang parang kalabasa na naiiwan ang bunga" ("don't  be like squash fruit left by the vine", means you are too slow to learn). This powerhouse vegetable is packed with vitamins and minerals that contributes to alertness and high energy in the body.
Pumpkins are very much like squash. They have the same botanical classifications, but differ in size, shape and colour. These two hardy veggies are being used interchangeably, although, the former is considered of a fruit in the Western world and in Europe.
Both pumpkins and squash  vary greatly in color: They can be  bright  green, pale green, orange-yellow, white, red and even gray. Even though the origin of the word pumpkin "pepon" came from  the Greeks which means "large melon", it is not definite that it came from Greece but rather is believed  to originate from  North America.
Pumpkins/Squash  are grown all around the world for a variety of reasons: agricultural (feed), ornamental (Thanksgiving and Halloween), commercial and of course as food. They grow abundantly in Europe, Mexico, Southern and Western Hemisphere, Asia (including The Philippines) and all of the seven continents with the exception of Antarctica.
As for medicinal/herbal remedy and  use, squash is  believed  to aid in the healing of boils and ulcers, while shoots are used  to  aid in reducing kidney stones. The  seeds,  if eaten fresh, can serve as an anti-inflammatory  or even  anti-helminthic  "pampurga" for children, to  name a few.
The yellow color of  the pumpkin/squash fleshy meat and pulp is derived from the orange pigments abundant in them. All varieties contain lots of nutrients such as lutein, alpha and beta carotene, which generates vitamin A in human body. The shoots and flowers also contain calcium, phosphorus and iron while seeds are high in protein and zinc. Squash and pumpkins in general are fully loaded with vitamins and minerals.  They are both good sources of Vitamin E (Alpha Tocopherol), Thiamin, Niacin, Vitamin B6, Folate, Iron, Magnesium and Phosphorus, They are also  a very good source of Dietary Fiber, Vitamin C, Riboflavin, Potassium, Copper and Manganese, not to forget to mention that they are low in saturated fat. Last but not the least they are very low in cholesterol and sodium. The table below contains detailed nutrient contents of squash and pumpkins.
Nutritional Information
NUTIENT Contents per 100 gram Edible Portion (EP)

Squash (Boiled)*

Pumpkin (Boiled)**

Fruit

Flower

Seed

Fruit

Flower

Seed

EP (%)

100

100

100

100

100

100

Water (g)

88.2

94.8

–

93.7

95.2

–

Energy(Kcal )

47

19

446

20

15

446

Protein (g)

0.4

0.4

18.5

0.7

1.1

18.5

Fat (g)

0.2

0.1

19.4

0.1

0.1

19.4

Carbohydrate (g)

10.8

4.1

53.7

4.9

3.3

53.7

Dietary Fiber-Crude (g)

0.6

0.6

0.0

1.1

0.9

0.0

Calcium (mg)

38

48

55

15

37

55

Phosphorous (mg)

20

26

92

30

34

92

Iron (mg)

0.3

0.6

3.3

0.6

0.9

3.3

Beta Carotene(ug)

410

220

0.0

2096

1040

0.0

Vitamin A (ug)

66

37

62 IU

250

87

62 IU

Thiamin (mg)

0.03

0.01

0.0

0.0

0.0

0.0

Riboflavin (mg)

0.02

0.02

0.1

0.1

0.0

0.1

Niacin (mg)

0.5

0.3

0.3

0.4

0.3

0.3

Ascorbic Acid (mg)

8

4

0.3

4.7

5

0.3

* The Food Composition Tables 1997 FNRI-DOST

**USDA Nutrition Data Base
Since we already know the nutrient contents, uses and functions of these mighty  fruits or vegetables, it is  proper to  also explore their  culinary and cooking  versatility.  But before we go there,  let's first tackle  the most challenging part: obtaining the meat. Here are easy ways to get the meat from the hard skin/shell.
Baking Method

reheat oven to 400 degrees.  Cut the pumpkin/squash in 4-8 wedges discard the seeds and stringy part. Cover with foil and  bake in the oven for 20-30 minutes  face down. Let it cool  down before scraping and use blender/food processor to puree.
Microwave Method : Cut the pumpkin/squash in 4-8 wedges, discard the seeds and stringy part. Microwave on high power for  in 5-8  minutes per pound, turning pieces every few minutes to promote even cooking. . Let it cool  down  before scraping and use blender/food processor to puree.
Boiling Method: Boil water in a sauce pan. Cut the pumpkin/squash in to chunks. Remove the skin. Discard the seeds and stringy part. Put  chunks in the pan covered with water and boil until tender. Let it cool  down before scraping and use blender/food processor to puree.
** Refrigerate fresh pumpkin puree for up to three days, or up to 6 months if stored in the freezer.
TASTEBUDS
You will be surprised to find that these palatable dishes contain squash and pumpkin. Enjoy!
Savoury: Squash  Fritters

( Ukoy Kalabasa)

Savoury/Spicy : Zucchini-Corn Soup

(Sinuwam na Mais-Kalabasa)

INGREDIENTS

1 cup pumpkin,  julienne cut  (gayatin)
1cup sweet potato- julienne cut (gayatin)
½ cup thinly sliced red onion
½ cup Shrimps deveined sliced in half
2 eggs, lightly beaten
1 cup all-purpose flour
1 teaspoon baking powder
1teaspoon baking soda
1 teaspoon curry powder
1 teaspoon salt
1 teaspoon pepper
4 cups vegetable oil for frying

SAUCE: 1 clove minced garlic                                          1tbsp fish sauce                                                     1tbsp Mirin Sauce ( Japanese sauce)                                                          2 tbsp Rice  wine vinegar                                                             1 small red chili pepper/ or 1tablespoon chili garlic paste

*Mix all ingredients in a bowl . Set aside

Procedure:

1.       In a medium bowl combine egg, flour, baking powder, baking soda, curry powder, pepper and salt. Mix until well blended. Add  pumpkin, kamote and shrimps. Mix all ingredients.

2.       Heat oil in a deep saucepan to 375 F. Drop batter by large spoonfuls into hot oil. Fry until golden brown, about 2 minutes.  Turn and fry the other side until golden brown.

3.       Remove with a slotted spoon, pat dry.

4.       Serve with sauce while hot

Yield: 6-8 servings

Ingredients:

3 cobs of corn,
1can  crème of corn
1cup zucchini, diced
½ cup zucchini flowers (optional)
½ cup long beans ( sitaw)
½ c mixed vegetables ( varieties of mushroom)
1 pound cured  pork meat (Tocino)
1c shrimps, shelled and deveined
2 tablespoons shrimp paste (spicy  bagoong )
2 cloves of garlic
½ medium Spanish ( yellow) onion
3 cups chicken broth
2 tablespoon vegetable oil

Procedure:

Cut kernels from the cob. Scrape the crème from the cob. Set aside
Saute onion and garlic in a large pan.
Wash tocino and cut in ½ " thick.  Add into the pan followed by shrimps. Simmer for 3 minutes.
Add corn kernels, beans and simmer for another 3 minutes.
Add   broth, other vegetables, crème of  corn scraped  from the cobs and can of crème of corn. Boil for 5 minutes.
Add shrimp paste and let it boil for another 2 minutes.
Serve hot

Yield:6-8 servings
Savoury: Chicken  -Pumpkin Satay

SWEET: Squash Custard (Leche Flan)

Ingredients: Marinade:

Juice of  1 lime
2 tbsp grated lemongrass- juice extracted
2 T vegetable oil/olive oil
2 T Patis ( Fish Sauce)

1T chili paste
1 pound Chicken breast

Sauce

1 1/2 tablespoons low fat margarine
1 shallot, finely chopped
1 clove garlic, crushed
Garlic Chili Paste
½  cup  peanut butter
½ cup    puree butternut squash
2T brown sugar
Bamboo skewers

Procedure:

1, Cut chicken into  1" cubes. Marinate  for 30 minutes in lemongrass, lime juice, patis and olive oil. Grill chicken  @ 400F in an oven for 8 minutes on both sides using bamboo skewers

2. Melt margarine in a small sauce pan. Add shallots until translucent. Add minced garlic, chili paste, peanut butter and squash. Simmer for 5 minutes. Add water if necessary to avoid scorching. Lastly, add brown sugar and simmer for another 2 minutes.

Ingredients

1cup puree Butternut Squash
1 cup condensed milk
3 eggs yolks
1 teaspoon lime (dayap)  rind, juice extracted

Procedure:

1. Cut   Squash into quarters and remove seeds. Bake at 375 degree  for an hour.  Using a spoon remove the meat from the skin,  then  puree using a hand held blender or mixer.

2. Separate egg whites from yolk. Add yolks  and milk to squash.

3. Add dayap (lime) juice obtained by extracting rind mixed with  1 tablespoon of water. Add to the  squash-milk mixture and blend  until very smooth (Don't over mix)

4. Caramelize sugar on the leche flan mold (llanera) or round foil plate by putting the mold on direct heat until sugar browns and form liquid.

5. Pour   mixture into the  mold, wrap it with clear plastic bag and steam for 30-35 minutes or until  toothpick comes out clean.
SWEET: Layered Pumpkin Royale

( Kalabasa Sapin- Sapin)

SWEET: Pumpkin Crème Brulee

** My signature recipe: Imagine having 4 dishes in one. Fruit, vegetable, carbohydrate and dessert! Amazing combination.

Ingredients:

2 cups sweet rice flour
1 cup sugar
1 cup purple yam, boiled, grated
1cup  pumpkin, baked, pureed
½ cup coconut strings ( makapuno)
1 ¾ cup  coconut milk ( 1 -400ml can)
Food colorings: purple (mix blue & red), yellow and green
Non-stick butter spray
Desiccated coconut ( Optional)

Procedure:

Pour rice flour, sugar in a large bowl. Make a well in the centre and pour coconut milk. Blend until smooth. Divide equally  in 3 separate smaller bowls.
In the first bowl, add purple yam and purple coloring. Blend until smooth. Spray mold ( llanera)  with non-stick butter pray. Add mixture about 1/3 in the container. Steam for 10-15 minutes.
In the next bowl, add puree pumpkin and yellow coloring. Blend until smooth. Add on top of the purple yam  once set. Steam for another 10 minutes.
In the last bowl add coconut strings and green color. Blend until well distributed. Pour on top of the set squash  and steam for 10 minutes.

Cool down and unmold. Pour roasted desiccated coconut if desired.

Yield: 24 servings

Ingredients

1cup puree Butternut Squash
1 cup condensed milk
3 eggs yolks
1 teaspoon vanilla extract

Procedure:

1. Cut   Squash into quarters and remove  seeds and bake at 375 degree  for an hour.  .  Using a spoon remove the meat from the skin,  then  puree using a hand held blender or mixer.

2. Separate egg whites from yolk. Add yolks  and milk to squash.

3. Add  vanilla  to the  squash-milk mixture and blend  until very smooth (Don't over mix)

4.  Pour   squash-egg mixture into  ramekin molds,  and put on a rectangular dish with hot water (1-2 full)

5. Bake for 45 mins-1 hour  minutes or until  toothpick comes out clean.

6. Cool them down.

7. Sprinkle  and cover the top with sugar. Using a torch, blow each mold individually  until sugar  is melted/ caramelized.  If torch is not available broil  for 2-5 minutes until sugar melted/caramelized

8. Serve chilled

Yield: 6-8 servings
Sweet: Pumpkin Latte Supreme

Sweet: Squash Smoothie

Ingredients:

1 cup pumpkin, pureed

2 cups milk

2 tablespoons brown sugar or natural sugar sweetener

Pumpkin spice

Whip Topping ( Optional)

Procedure:

In a sauce pan, scald milk. Add pureed pumpkin and simmer for 3-5 minutes. Do not boil. Stir occasionally to prevent from scorching.
Add sugar and spice
Pour into Latte cups topped with whip topping and sprinkle with pumpkin spice.
Serve while steaming hot.

Yield:  4 servings

Ingredients:

1 cup pumpkin, pureed

1 cup milk

½ cup vanilla yogurt

1 ripe banana

2 tablespoons brown sugar or natural sugar sweetener

Pumpkin spice

Ice cubes

Procedure:

1 Put flute in the freezer for few minutes.

2. In a blender, pour milk and yogurt. Mix for a few seconds. Add ice cubes and  puree for another minute.

2. Add pumpkin, banana  sugar and spice

3. Pour on a flute glass previously frozen.

4. Serve chilled.

Yield 3-4 servings