EX-PBA ALL STAR GAME IN CALGARY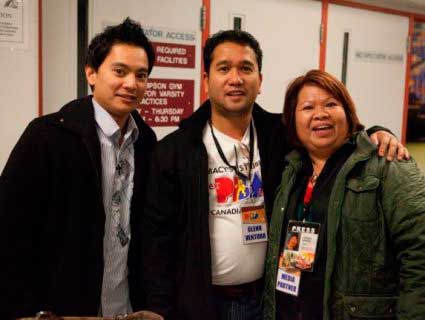 The group of the ex-PBA players arrived in Calgary on November 1 where they have an all star game at  Jack Simpson Gym at the University of Calgary.  The team were taken for a lunch buffet which was hosted by PINOY TIMES and EDMAR CALMA at the ROLYMIE BAKERY.  After the hearty lunch, the group decided to go back to the hotel to freshen up and get ready for their game at around 3 pm.  Arriving at the Jack Simpson gym, it was filled with basketball fanatics to witness an exhibition game by the ex-PBA players against the selection team of the CPBA.   Before the game started, the Philippine National Anthem was sung by Sherry Anne Fulgencio and the Canadian National Anthem by Mary Kate Aquino.  Atoy Co who is a very popular player during his time started with the first five.  Amongst other who played in court was Locsin, Cordinera, Esplana, Balingit, Realubit, Asaytono, Sta. Maria, Cordero and Alvarez.    It was indeed a delight to watch an intermission number  at half time rendered by Realubit on the guitar and Balingit singing to the tune of Spaghetti and Otso Otso.  The game ended with the ex-PBA team leading 65 points and the CPBA selection with 52 points.
It was indeed a fun time for the fans to see their old time favorites PBA players here in Calgary thru the efforts of Glenn Ventura of Macy's Distribution from Vancouver with the assistance of Bryan Fabrig and the CPBA together with the media sponsors, Pinoy Times, Mabuhay Calgary, Radio Pinoy and TV Pilipino.