OFW of the Month – Ryan H. Del Rosario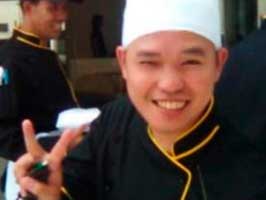 In the Philippines, the Kapampangans are known for their unique style and taste in their foods from native delicacies to modern dishes. Most Kapampangans are good in cooking like our featured OFW for this month.
Ryan Del Rosario, 28 years old, the third child of a once well-off family in Pampanga has great passion for food and kitchen. His mother was a businesswoman who owned a travel agency before. During his teenage years, their family lived with abundance of everything. He attended college at New Era University and took Business Management. But when he was in second year, his mother's business started to lose profit and before long, it bled dry. He then transferred to Systems Plus Computer Foundation in Pampanga and took Bachelor of Science in Information Technology.
Ryan has a captivating voice and he has sung in various wedding ceremonies. He also worked in different establishments like fast food restaurants, coffee shop and supermarkets. He discovered his passion when he worked at Charlie's Grill as a waiter. To further his passion, he decided to leave the country and work abroad. He was hired as a waiter at Hilton Hotel in Dubai. While working as a waiter, he was also trained in the kitchen. After six months, he became a chef.
When Ryan went back to the Philippines, he continued working as a chef. He worked in different restaurants before he got the chance to be hired here in Canada. In August 2009, he arrived here in Calgary. He is now working in Starlite Restaurant & Bar as a cook. Because of this, Ryan is now one step closer to his dream – to put up his own restaurant someday.
-Melvin Laureano