OFW of the Month – Domingo De Vera Jr.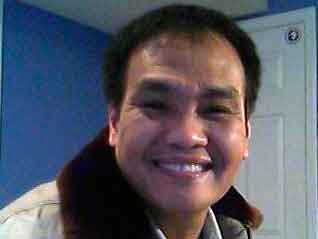 "Laughter is a good medicine." This is what Domingo believes. "Domeng", as what his friends call him is the source of all laughter in his group. He is a happy person and optimistic – always looking to the bright side of life. Now in his early 40's, Domeng has a stable job and he loves what he is doing. Looking back in his past, we can see in him a flash of courage, a strong determination and an inspiring story of a young boy who lived his life without the care of his parents.
Domeng was born in Ramos, Tarlac. He was the youngest child in the family. At the age of three, his mother died. After a few months, his father was married to another woman. So he moved to his grandma's house and lived under her care. When he was eight years old, Domeng did a lot of things to support his schooling. At dawn of every weekend, he joins a team of farmers in harvesting peanuts. He was selling pandesal in the streets every morning. He was selling ice candies in their school and he was walking in dark streets at night while shouting, "baluuuuut!"
Growing up without his real parents, he has learned how to become a strong, independent and good fighter. And even though he was working while studying, he graduated elementary with honor. Such achievement is what makes every parent proud of their child but for Domeng, no parent became proud of him. He continued supporting himself until he graduated high school at Central Institute of Technology – Paniqui, Tarlac. Some of his relatives supported him during his college years. He took BS Management at New Era University but during his third year, he stopped because his relatives had some financial problems.
In 1990, he worked as a waiter at Aroma Chicken House. Having a beautiful voice and a great passion in singing, he tried the singing audition for Japan at Metropolitan Theater. Fortunately, he was qualified. He flew to Japan in 1991 and worked as singer at Matsuya Hotel in Tuchigi-Ken. Due to a slack of time as a singer, he worked for an extra mile in their hotel's kitchen. In Japan, Domeng found a temporary family from his employer and workmates. He experienced how to be loved by people not closely related to him. It is one of the most amazing experiences he had.
In 1993, he went back to the Philippines and lived with his sister in Alabang. He had two jobs at the same time: (1) at Tambunting Group of Companies as Liaison Officer then became the Department Head and (2) as a cook at Venus Catering Services. In 1995, he met the woman whom he married, Amorfina Magracia. They have two kids, Gabrielle Dominic and Ella Feliz. In 2005, he worked as cook at Nikko Hotel in Koror, Republic of Palau. He went back to the Philippines in 2007. He applied several jobs online and fortunately, he was one of the lucky Filipinos to come here in Canada. He arrived in Calgary on September 11, 2008. He was hired as cook at Austin Bar and Grill in Elbow Drive. Because of his dedication, initiative and diligence, Domeng is now a kitchen supervisor.
In his story, Domeng has proven that courage with determination is the key to pursue one's dream. Having no parents was not an excuse. Instead, it was what drove him to run faster and sail further until he finds the kind of life that he was wishing for.
By Melvin Laureano