CONCERT IN REVIEW : HEARTS TO HEARTS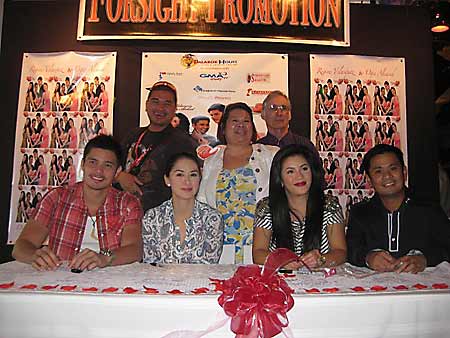 By C.K.
As media partner for Hearts to Hearts concert in Edmonton, we have the pleasure to attend the "Meet and Greet" with the stars on May 15th at Palabok House in Edmonton.   It was a full house when my crew got there and buffet dinner was waiting for all the sponsors and fans to see these great performers of GMA PINOY TV.  Not too long after we got there, comes Ogie, Regine , Marianne and Dingdong.  Photo sessions were held with the sponsors for the event.  Everyone was happy to see them and were all excited to watch their upcoming show on the following evening.
The concert was held at the Shaw Conference Centre in Edmonton on May 16, 2010.  An evening of songs, dance and laughter once again stunned the fans of Asia's songbird, Regine Velasquez and singer/songwriter Ogie Alcasid.  With them  is one of the beautiful faces on television and movies, Marianne Rivera and a very popular actor in his own rights, Dingdong Dantes joined Ogie and Regine for the evening.   It was a full house and everyone enjoyed every bit of performance rendered by the stars.   Regine and Ogie wowed the fans with their showmanship and their beautiful renditions of songs.  Dingdong Dantes also proved to be a singer that evening did a duet with Regine and another one with Marianne.  Ms. Rivera had several dance numbers together with a local group of dancers from Edmonton.
Since this concert was only held in Edmonton, the audience were a mixed of Filipinos who came from Calgary, Lake Louise, Red Deer and other neighboring towns.  It just showed how much of a following these stars have here in Alberta.  No matter where they are from, they have driven at least 1 to 3 hours depending on where they came from just to see the concert in Edmonton.   Others were even there the night before at the Meet and Greet dinner.  No wonder, we can say that this concert was a real success and the turn out was really excellent.  Congratulations to  Lydia Jimenez and partners of Palabok House and to Forsight Promotions for bringing this concert in Edmonton.  We will definitely look forward to more upcoming concerts in the near future.