OFW of the Month – Cris Manio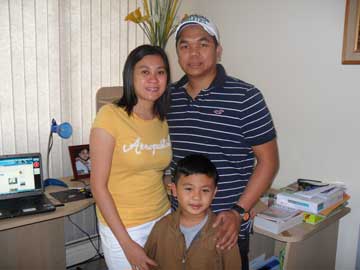 Complementing last month's special edition for Mother's Day, we are again featuring another special edition as we celebrate Father's Day this June. Each of us should remember our fathers for their nurturing love for us. It is time to thank them and let them feel that we love them as much as they love us.
A good father is a good provider. He is always willing to do anything for the sake of his family even flying a thousand miles away from them in order to find a better job opportunity. One of them is Crisanto S. Manio or we can just call him Cris. He is the loving father of John Vincent and the caring husband of Ness Esguerra.
Cris was born in San Ildefonso, Bulacan on April 29, 1977. He is the sixth in nine siblings. His mom owns a sari-sari store and his late father was a farmer. Living a simple life but filled with happiness, Cris has learned from his childhood experiences. During his high school days, he was helping his aunt in selling products at the supermarket and working part-time at a garments factory to earn for his schooling. With such resourcefulness, Cris was able to graduate high school at Buena Vista High School in San Ildefonso and Associate in Computer Science at Baliuag University.
After his graduation, Cris worked at Nestle Philippines as production operator for cereal processing. While employed at Nestle, he met Ness. They got married on May 23, 2003 and blessed with a child, John Vincent who was born on June 27, 2004.
Cris was one of the lucky Filipinos that was given a chance to come here in Canada. He was the first Pinoy that was hired by Weston Bakeries. He came to Calgary on July 4, 2007. Having a sense of gratitude, Cris worked diligently for Weston. Indeed, this is a common trait of most Filipinos around the world to be thankful and hardworking in return. This was the reason that his employer help him in his application for Provincial Nominee Program of Alberta. With this program, there is a great chance that he can bring his family here in a greener pasture.
While his PNP application is in the process, Cris underwent many trials and hardships. He was often stricken by homesickness especially during important occasions like Father's Day, his birthday, his wife's birthday, his son's birthday, Christmas and New Year's Day. He also had to undergo a surgical operation for his appendicitis. He was confined in the hospital for several days. It was hard to be in this condition without his family beside him. But at least, some of his friends were there to support him. Most of them were his co-workers at Nestle before.
In April 2009, he went for a vacation to the Philippines to visit his family. This alleviated his heavy homesickness that he was bearing for almost two years. In November of that same year, he went home again because his father, Reynaldo Manio, passed away. Despite of everything that has happened, Cris remained strong. He kept believing and waited patiently for his dreams to come true.
Sometime in March 2009, he received the good news – a positive notification about his application. He was so happy that day and he forgot all about his hardships. His wife and son arrived in Calgary on May 3, 2010.
Now their plan is to start a better life here in Canada. They want their son to grow up with the same Filipino culture, traits and spirit. They will strive hard to give their son a better education and hopefully to have their own house in the near future. Ness wants to find a job to help Cris financially. We would like to wish Ness a good luck.  And Cris, with all gratefulness, will do his best to please his employer.
Happy Father's Day.