Baguio musicians come a long way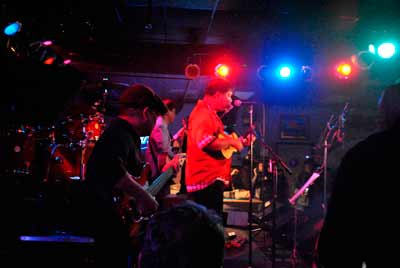 By March Fianza
They still find time to play music together although many of them are successful in their selected fields. More than a dozen have migrated to the USA in search for better opportunities and protection in "Uncle Sam's Arms" while the rest of the bunch preferred to be busy with their jobs in Baguio or elsewhere in the Philippines. Some of them remained in the music business and never stopped playing.
I am referring to the singers and musicians of the 70s and 80s who were the fixtures in the watering holes and restaurants cum liquor bars in Baguio City. These particular shops called "folkhouses" were The Fireplace, Gingerbreadman which metamorphosed into The Cuckoo's Nest, Tic-Tac-Toe, Cozy Nook, Harpo's, Music Box, Cappriccio, and the Lone Star in Camp John Hay to name some.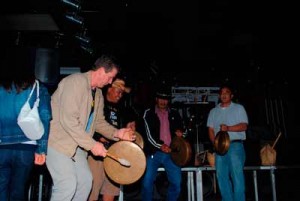 Ironically, singing which they can do best and which they had been doing for four decades now, has made them the "unsung heroes" of today. Their unity and bondage became tighter while practicing for one of the first Baguio "all star cast" concert "May You Stay Forever Young," a song title borrowed from Bob Dylan, on December 10, 1977.
Many of Baguio's part time folksingers in the 70s sung their first song at The Fireplace or at The Gingerbreadman before scouting for extra singing slots in other folkhouses. In truth, The Fireplace and Gingerbreadman folkhouses practically served as training grounds for many folksingers in Baguio.
The Fireplace was where Filipino singer-composer-artist Tito Mina, now an expat in Germany, sang "Early Morning Rain" by Gordon Lightfoot, "Don't Think Twice, It's Alright" by Dylan and "You Can Close Your Eyes" by James Taylor, before he wrote his Filipino hit song "Ikaw Pa Rin."
Singing as a part time job backed up school fees for many of us. I know that because I was one who skipped late evening classes once in a while in order to play my sets. Bubut Olarte, a lawyer for 30 years now and a candidate in the last elections, admitted that a big part of his law studies was supported by his singing.
Most of the singers at The Fireplace did not attend formal studies in music. But their natural talents pulled them together such that the singing they do sounded so amazing, a new duet or trio or quartet can be formed right away during rehearsals.
"For-a-cause" concerts or benefit shows are not new to the early singers of The Fireplace, Gingerbreadman or Cuckoo's Nest. As far as I can recall, we performed the first-ever benefit concerts in the Cordillera. In December 1977, the group that was once called the Baguio Musicians' Guild performed in Banawe, Kiangan and Lagawe in Ifugao; inside the Lepanto Mining Co. in the town of Mankayan, Benguet during the cold month of January 1978, replicated by another show in the Univ. of the Phil., Los Baños that benefited the Green Mountain Circle, an organization of students from the Cordillera Region.
Today, even while most of their time is occupied by work, the musicians and singers find themselves playing in benefit concerts for heart, kidney and cancer patients, or for any good cause. The reality is that the "for-a-cause" musical event has already developed into a community effort.
Just like the Baguio musicians who are scattered in the US, Canada, Europe and Asia, benefit concerts have come a long way. On April 17, 2010, Baguio musician-expats in the US got together in a concert dubbed "I Miss The Old Baguio" in celebration of the 100th year of Baguio as a city.
The concert held at Santee, San Diego County featured Alan Del Rosario, Jojo Napay, Danny Tangalin, Meggs Meru, Banjo Romawac, Richard Arandia and Chat Coloma-Aban together with Makee Carantes-Stephenson, Bobby Carantes and Hec Cruz, former members of Bag-iw.
Bobby was visiting from Baguio when the concert was co-organized by his sister Makee, while Hec drove all the way from Canada with co-pilot Rene Aguinaldo just to reunite with Fireplace buddies.
Prior to that, a benefit concert was held October 11, 2008 at the Holy Child St. Martin Church in Daly City, California, featuring Baguio Fireplace musicians also. At least three or four benefit shows were already organized by Fireplace singers in the US, and a number of BIBAK groups all over are asking if they can also have one in their area.
On September 4, 2010, Fireplace singers will again get together in "The Fireplace Gathering," a concert being co-organized by Hec Cruz, Ivan Reyes and Ed Montemayor who are all residents of Canada. This will be held at the Thorn Cliff – Greenview Community Center, 5600 Center Street, NE Calgary, AB.
This time Conrad Marzan who recently went home to the US after a short vacation in Baguio, will make himself available. He will perform with Felix Tayaotao, Danny T., Chat, Richard and Meggs.
Tito Mina Caloy Medina, two of the first musicians The Fireplace had, might just surprise everybody when they decide to perform in that concert. Dr. Caloy, book author migrated to Canada with his family a few years ago.
Hec said there will also be guest appearances by Chat's hubby Pendong Aban of the undying Asin band, Leo Marrero and Rene Aguinaldo, all Baguio boys.