PINOY TIMES Celebrates its 2nd year anniversary!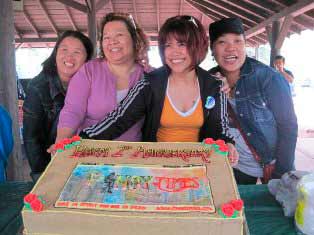 In Retrospect – successful two years and going forward……..
by Estrella "Tata" delos Reyes
When asked why I do what I do for Pinoy Times (PT), I merely smile and say "it gives me the pleasure". In so many ways, a volunteer is often faced with a challenging question, "Why do you do it when you don't get paid for that?"
When I reflect on why I have been so dedicated to Pinoy Times & my writing, I suddenly feel nostalgic. Not only that it became my venue to express myself, it also becomes the funnel I slip through or the channel I go through in reaching out to our "kababayans" each time I cover on a Community event.
Pinoy Times recently celebrated its 2nd year anniversary at Bowness Park. Although the weather was not that perfect, I was up on my feet gassing up along the Trans-Canada Highway to get to the Park at 9:00 AM. Cloudy and chilly, I traversed the road with excitement. I have the August issue on my passenger seat and I started reviewing what beautiful things have happened since its launch in July 2008.
As I looked back on the year that passed, Pinoy Times' publication was a mixture of old and new life events. Some businesses for our fellow Fil-Calgarians who had been with our roster of advertisers are still with us while others have left – although not very many. There were a few that may have lost their ventures due to economic dampening. But many others remained loyal to the publication with the same spirit of keeping the Filipino Community alive and kicking.
I will quote once again… Pinoy Times is an independently published community newspaper with the goal of Filipino cultural and heritage value preservation. A public service oriented venue to unite all Filipinos in Calgary and the neighboring towns. To support one another with all our might as we stand united in proving our being solid Filipino both in our hearts and minds.
On behalf of our publisher, Connie Kriaski and the whole group of people involved in their own little way with PINOY TIMES, we would like to thank some of our advertisers with their generosity during out potluck picnic, Philippine Financial Services, Greatlife Financial, Melly's Bakery, Rolymie Bakery Restaurant, Manila's Finest Grill and Pub, Bahay Kubo Restaurant, Ms. Jessica Taburada and Bhe-Bhe's Filipino Store. And to all our fellow Pinoys who came and joined us and brought food for us to share. We would also like to thank our DJ for the event, Manila Lights and Sounds by Ed delos Reyes; it was definitely a blast with all the music played that day, from the line dancing to the parlor games, Ed has provided us with nothing us great sounds.
Congratulations to Pinoy Times for bringing out the best in all of us. Kudos and here's to more years of success. Cheers!!!