TIPS TO STRESS-FREE HOLIDAY TRAVEL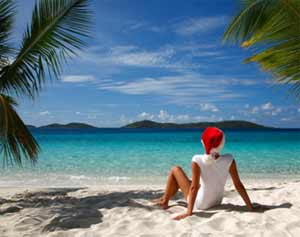 Everyone knows that holiday season can be the most stressful time of the year, though is also a great opportunity to get away and visit families.
Don't let long lines, flight delays, lost luggage, traffic jams, crowds and other travel bummers sap your yuletide cheer. With a little preparation and foresight-and a hefty dose of patience- you can avoid some of the most stressful holiday-travel traps and even enjoy the trip.
Here are some tips to take the stress out of your holiday travel:
Review Your Itinerary Before Your Departure
If you find a problem, be sure to do something about it right away. Even the smallest typo in a name should be corrected. You'd be surprised how a single incorrect letter can cause you major problems later. Call your travel agent immediately to get the problem fixed and you'll avoid serious hassles down the road.

Travel light to save hassle and money

Packing light is always a good idea at peak travel times, but this year it could save you money, as many airlines have decreased luggage weight allowances on domestic flights to 50 pounds per person. More significantly, while some luggage limits have been sporadically enforced in the past, all indications say that you will be charged for overages this year as the airlines try to improve their bottom line whenever they can. If you are traveling to warm weather destinations, and won't be packing a lot of heavy clothes, consider packing light enough to fit all your stuff into a single carry-on.
Get a Good Night's Sleep Before You Go
Don't burn the midnight oil wrapping presents, packing bags and tending to other last-minute trip preparations. Take care of these tasks ahead of time and turn in at a reasonable hour for a good night's sleep. If you get plenty of sleep beforehand, you'll be less cranky and susceptible to stress.
Bring your own Healthy Snacks
Don't wait until you're ravenous, cranky  and desperate for something to eat at an airport, train station or  rest stop. Pack portable healthy fare  for the journey. Besides satisfying your hunger jeeps your blood sugar levels steadier, so you'll be less anxious and irritable while travelling.
Keep Your Valuables Safe
Be sure to keep your valuables (passport, tickets, and wallet) in a small waist pack or pouch so that you can carry it around your neck or middle. Especially in busy airports you should never put these valuables in your backpack or purse. Criminals have lots of handy ways to unknowingly get into your backpack or snatch your purse.
Leave Early

During peak travel times, much of the trouble you'll face lies on this side of the security check-in, from traffic jams and full parking lots to absent shuttles and long lines. You may want to leave early for the airport to anticipate all the peripheral delays you may encounter.
Prevent Boredom
Bring along an absorbing book you've been eager to read, or an iPod or MP3 player with a soothing playlist to help you mellow out along the way. Music helps dissipate any anxiety and tension you feel especially when there's annoying chatterbox sitting nearby.
Like anything in life, things don't always go as planned. Being prepared and flexible in your plans will keep you from stressing when the unexpected happens. Have a safe trip..
HAPPY HOLIDAYS!!!