The Philippine-Calgarian 31st Anniversary and Valentine's Day Celebration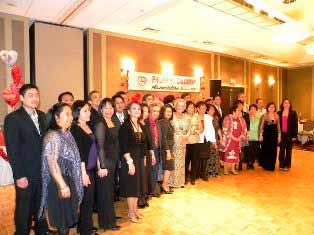 by: Marietta Pangan-Dutkoski
February 5th 2011 at 6:00 pm marked the the 31st year celebration of the social gathering of   the close- knit, family oriented  Philippine Calgarian Association (PCA), held at Sheraton Cavalier at  Barlow and 32nd Avenue.
Jun and Beng Cruz,  the evening masters of ceremony, active members  and former PCA officers, said that  the idea started in 1979 with handful of Filipino friends and neighbors.PCA held its first  Valentine Dinner  Dance in 1980 and since then, the said gathering generated tremendous fun and success.
The event was officially opened with the singing two nations national anthem the "Lupang Hinirang" followed by O Canada. Then   Stephen "Roy" Dait, PCA President addressed the welcome remarks. A convocation followed prior to the partake of sumptuous  "Roast Beef Dinner". While  During  dinner  a slide presentation is being  played  that featured previous years of the association   doing all fun activities like fishing, camping and Christmas  Party which entertains the guests and attendees.
The event was also graced by the presence of  Manmeet Bhullar, MLA Calgary Monrose.  All members and officials of the event had their share of group  photos meet as well as meet and greet.
Part of the programs was their tradition of  with a   a  touch of sweetness  where 31 roses were offered as tokens  by the gentlemen members of the group as appreciation to the  31 women who arrived early at the venue during the event.  There were lots of prizes  given away including  2 free  "balik bayan padala " ( parcel and freight boxes)  . There was also 50/50 draw which  added fun to the night.   After dinner, the crowd gathered on the dance floor and  officially started Valentine's  Day,  through dancing  the night away.
It was wonderful to know that  the ever growing PCA is heading towards more years with a promise  to pursue  and fulfill their roles as  community uniting Filipinos in  Canada. Happy Anniversary PCA and more power!