Ms. Seniors Calgary 2011 Coronation Night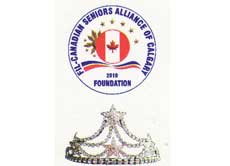 Saturday April 16, 2011
There is still time to get your tickets for the Coronation Night of the Ms. Seniors Calgary 2011 Champions! Hosted by the Fil-Canadian Seniors Alliance of Calgary Foundation, you can contact Pepe Siapno for tickets. This party is always a fun night and will be held at the Polish Canadian Cultural Centre. The following winners will be crowned:
Ms. Seniors Calgary 2011 – Ms. Francisca Mauricio Viray, who also captured the Queen of Charity 2011 award.
1st Runner-up and Ms. Photogenic 2011 – Ms. Lea Hornby
Ms. Congeniality 2011 and 2nd Runner-up for 2011 – Ms. Carmelita Fuentes
Don't miss this special night as we honor our beautiful Seniors!