Amazing Filipino Show in Calgary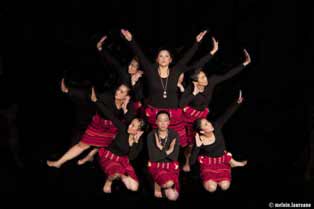 The 18th Annual Cultural Nite Show of the University of Calgary Filipino Students' Association UCFSA which was held at Boyce Theatre on May 28, 2011 was another huge success. The concept of this show was great because it was filled with lots of entertainment; drama, dance and musical theatre put together.
The show was entitled CULTURAL NITE XVIII: TABO TIME MACHINE because it portrayed the story of a teenage Filipina girl who misunderstands the values of her parents. She was sent back in time through the magical Tabo Time Machine. Her time travel started in the 80's at Winnipeg where her parents first fell in love. As the story goes, many intermissions were performed. There were singing performance, modern dance and cultural dances such as Idaw, Salip, Malong Dance, Banga, Bumayah, Paso de Iloilo, Paso Doble, Tahing Baila, Pangalay, Asik, Singkil, Pandanggo sa Ilaw, Sayaw ed Tapao a Bangko andTinikling. These impressive performances has made every Filipino audience proud of their values, culture and talents and has made the non-Filipino audience admire the Philippines. Mabuhay!