Jasmin " Alberta's Princess of Songs " meets Vehnee Saturno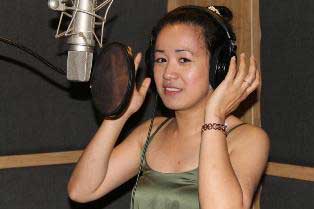 By: Beng Linco Frost
On May 25, 2011, Jasmin flew to Manila to pursue her dream of becoming a recording artist. I and some of her closest friends were at the airport to send Jasmin off. After she checked in, while we were waiting, I had a chance to talk to Jasmin about what her thoughts were with regard to her quest of becoming a recording artist. Jasmin, holding on to her tears, expressed to me her excitement and at the same time wondered what was waiting for her in the Philippines with regards to her journey to stardom.
I advised Jasmin to follow what her heart dictated and to only decide if she is comfortable with what's presented to her. I advised her to consult with her family and discuss matters before making a decision. I also told her if she needed my advice, she could come to me anytime, to whichshe still does.
That night while I was on the C-train on my way home at 10:50 pm, Jasmin sent me a text that she was already boarding the plane and once again saying " ate, thank you. I will inform you of the progress I make with regard to the recording project with Vehnee Saturno ". She also requested me to say thank you to " ate Venus "," kuya Romy ", " ate Nida ", Karen, Ronalyn, Ching, Ranty " kuya Marlon ", May and Roy Barquilla. And also she sent her thanks to all Calgarians who supported her.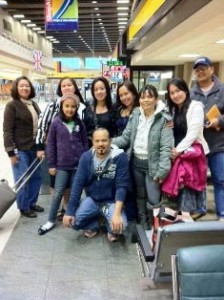 Last Friday, June 3rd, at about 9:00 pm local time, Jasmin sent me an email with pictures that she had already met with Mr. Saturno at the Saturno Music Production office in Manila. She informed me that she and Mr. Saturno are talking about what has to be done with regards to the recording project. She also said that Mr. Saturno was kind enough to give her advice with regards to her quest of becoming a recording artist.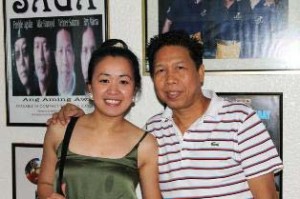 Jasmin was very excited to start the recording with Mr. Saturno. I've had the chance to listen to one of the songs that was sent to her by Mr. Saturno.  I liked it.
For more pictures of Jasmin and Vehnee Saturno, please go to Jasmin's Facebook.