Miss Zambales Charity Pageant Coronation Night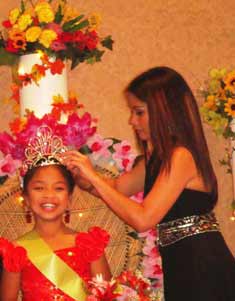 The lavish Coast Plaza Hotel was the scene of the recent Miss Zambales Charity Pageant Coronation Night. Presented by the Zambales Association of Calgary, the night was to honor the 2011 Zambales Charity Queen as well as the Princesses of Hope, Faith and Peace.
The evening began with great news when ZAMBALAC President Nora Ragadio announced that their 12th Annual Fundraiser had achieved their goal for a Medical/Dental Mission and Scholarship in the Philippines. It was clearly evident that even though this was a competitive Pageant, the goal of all those involved was to support a Charity that they believed in. Like all beauty pageants, everyone would like to win, however even at this young age (the Queen and the three Princesses ranged from 6 to 11 years old) these young ladies kept their goal of Charity in mind. They gained many friends in addition to experience and confidence that will make them better people and allow them to celebrate their Filipino heritage. Not only were all the candidates beautiful and dressed as royalty, they also exemplified the Filipino tradition of being multi-talented with skills that included singing, dancing and playing the guitar. This is a testament to the guidance that they get from their family and friends, to be the best that they can be!
Not surprising, these various pageants are a chance for the adults to get some attention and credit that they desire, while the young participants just want to have fun. Watching seven year old Florence Belle Rigos, Miss Zambales Charity Queen 2011 pose for endless group and individual photos, she patiently gave them all the time they needed. At no time did she look bored with the attention, but when it came time to play with her friends, she enjoyed that more. We all love to be kids, at any age, so when a kid gets to be a kid, that is when they are the happiest!
First Runner Up, Miss Kim Belle Guerrero, the 2011 Princess of Hope, showed her experience in Pageants. At the young age of eleven she proudly and capably took the "walk" with her escort Mr. Jude Guerrero at her side, looking like she has done this numerous times.
Second Runner Up, Miss Ivy Espiritu, the 2011 Princess of Faith, was adorned in a beautiful red gown and showed the beauty she inherited from her parents. With the Bouquet, Trophy and Sash, it was a joyful time for the Espiritu family!
Third Runner-Up, Miss Jasmine Joan Barcena, the 2011 Princess of Peace, was the youngest of all the Candidates at six years old. Not a surprise, with the support of her sister and family she was comfortable with all the attention of the Pageant. Congratulations Jasmine, I know Calgary will see you again!
Miss Resha Elaine Alfon, the reigning Charity Queen has matured to a young lady ever since the 2008 Pageant. Resha pledged to the appreciative audience her commitment to continue to be active in charity events. Congratulations! Resha, you represented Zambales well and you are already a role model for others!
A heartfelt thank you to all parents, sponsors, friends, Officers and members of the Zambales Association of Calgary for another excellent Pageant!