Knights of Columbus Fund Raiser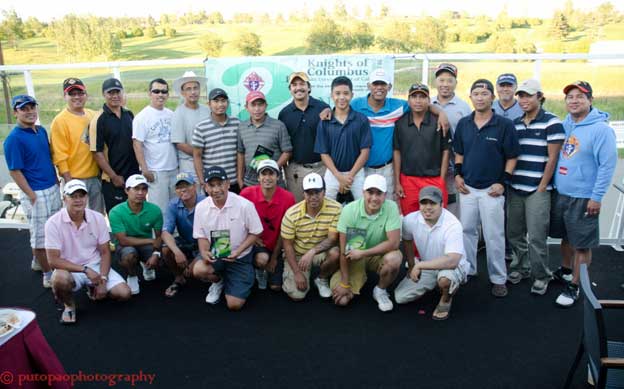 Running a golf tournament can be an effective fund raiser for any organization like the Knights of Columbus. Hosting such event during the summer months in Calgary requires a significant investment of time and money. But with the right people involved and the commitment to succeed, the payoff can be well worth the effort.  Such was the case when a few members of Council 14647 staged its 2nd Charity Golf Tournament at Fox Hollow Golf Course last August 13, 2011. Council members, brothers Emil Villanueva, Bing Gascon, Jun Chicote, Floro Rapisura, Art Rubiano, Rey Tantay and Melborn Dulay and the council`s deputy grand knight, Ed Cuaresma (representing grand knight Rodel Nagera) led in welcoming all players and thanking all participants to this worthy cause. They were also encouraged to join the All-Filipino council and boost its membership.
The following were proclaimed winners in three categories: Class A- Nelson Rubiano, Class B- Wilfredo and Class C- Kris Munoz. The organizers also acknowledged donations from Marivic Mabilog and Jack Balauag and the efforts of the Villanueva family in making the event a success.
-Bing Gascon