Genesis Centre Nearing Completion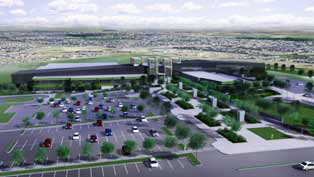 After years of anticipation, hard work and development, Calgary's newest jewel is nearing completion. The Genesis Centre for Community Wellness, a $120 million multi-functional facility for sports, recreation and community services is opening soon!
Merely a dream 15 years ago, through the efforts of the North East Centre of Community Society (NECCS) and a commitment for support from past and present Governments, here is proof that dreams do come true! The Genesis Centre name comes from a generous sponsorship naming agreement with the Genesis Land Development Corporation.
The entire facility is split amongst three main partners, the YMCA (pool & fitness center), a Calgary Public Library branch, and NECCS. The NECCS portion of the facility is comprised of two field houses, an oversize gymnasium, two outdoor soccer fields, a large multi-purpose space, as well as several meeting rooms. The Genesis Centre was designed not only as a venue for sport and recreation, but as a place capable of hosting everything from cultural events, social occasions, and performing arts, to business oriented uses such as trade shows, conferences, and corporate functions. A human services area providing Immigration, ESL, career and family services, and referrals will also form part of the Genesis Centre of Community Wellness. With ample free parking and a new C-Train station right next door, convenience is the word!
The amenities of these three key players are far too extensive to list here so I recommend that you check out the Genesis Centre website at http://www.genesis-centre.ca. You will discover a lot of helpful information regarding the history of Genesis, funding commitments, rentable spaces, rental rates and employment opportunities in addition to numerous pictures and videos of the construction progress in the Genesis Centre. There is also some interesting information on future additions to the Centre which sits on a huge parcel of land in Calgary's northeast, just up 52 St. (Falconridge Blvd.)
While the construction crews put the finishing touches on the Genesis Centre of Community Wellness, there is an Open House scheduled. It will take place on October 26 from 6 to 8 pm at Saddleridge School located at 95 Saddlecrest Terrace N.E. All facility partners will be in attendance at this event, giving you the opportunity to ask any questions about what the Genesis Centre has to offer. If you are interested in discussing rental rates, times and associated topics this would be an excellent time to do it. However, with much demand for space I recommend doing it ASAP especially as General Manager Reg and his team have much experience with similar facilities in Calgary. The Filipino community has an outstanding reputation for being reliable partners and the Genesis Centre will do their best to accommodate all sporting leagues including basketball. You can contact them through their website.
Over the next few months tenants will be moving into the Genesis Centre, but one date is guaranteed and you should put it on your calendar. JANUARY 14, 2012 is the Grand Opening. Representatives of all levels of Government will be in attendance for the ribbon cutting and it will be an exciting time for Calgarians! Dreams do come true! See you there!