SIMBANG TAGALOG in honor of SAN LORENZO RUIZ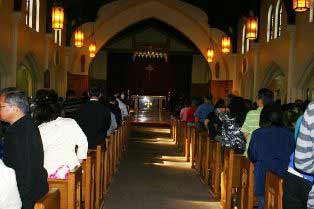 SIMBANG TAGALOG in honor of SAN LORENZO RUIZ – The First Filipino Saint
@Sacred Heart Catholic Church & St. Mark Catholic Church
September 18 & 25, 2011
By: Estrella "Tatsky" Delos Reyes
Two back to back Sunday masses in Tagalog where celebrated last September 18, and 25 at the Parishes of Sacred Heart & St. Mark's Church.  The masses were held to celebrate the feast and honor our own Patron Saint San Lorenzo Ruiz.
The first one was sponsored by the Filipino Catholic Society and co-sponsored by the All-Filipino Knights of Columbus Council 14746 and the second one solely by the latter.
Tagalog masses are very important in the cultivation of our Filipino heritage. It brings us back to our roots as the celebrants are Filipino priests we highly respect. The masses also allow for most Filipinos to gather around and get together in unison to express their faith.
San Lorenzo Ruiz is the First Filipino saint and Protomartyr of the Philippines. He was born in 1600 in Binondo Manila, from a Chinese father and a Filipino mother.  His Beatification was held in Manila on February 18, 1981, and canonized as Saint in October 18, 1987 in Vatican City, by Pope John Paul II.
The Binondo Church in Manila is the major shrine of San Lorenzo Ruiz, where he served as an altar boy in the convent.  Although he was a married man with two sons and a daughter, he continued to serve in the church to practice his Catholic faith. A religious man, contented, and generally peaceful, he also worked as a clerk at the church but not long after, was falsely accused of murder. He sought asylum with three Dominican priests aboard a ship and travelled to Okinawa Japan in 1636.
San Lorenzo's path to martyrdom began soon after when the Tokugawa shogunate were persecuting Christians by throwing them in prison. Two years passed and they were sent to Nagasaki for trial by torture.  It was on September 27, 1637, that Ruiz and his companions were taken to the hill for human torture through hunging upside down a pit. The only escape was to renounce his Christian faith.  But Ruiz repeatedly refused and died from extreme blood loss and suffocation.  Prior to his death, he repeatedly said, "Isa akong Katoliko at buong tinatanggap and kamatayang para sa Panginoon.  Kung ako man ay may sanlibong buhay, lahat ng iyon ay i-aalay ko sa Kanya".  (English: "I am a Catholic and I wholeheartedly accept this death for my God.  If I have a thousand lives, I will give them all to my God").  Thus, after a long wait, and careful deliberation by the Catholic Church, this man was honored for his martyrdom and was given the Sainthood title.