Simbang Gabi – Kicks off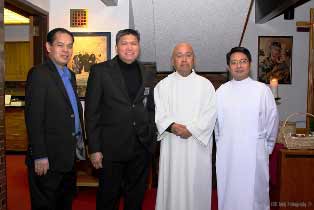 At The Canadian Martyrs Catholic Church -  Sponsored by K of C All-Filipino Council 14746
by:  Tata Gascon-Delos Reyes
The traditional "Simbang Gabi" (Midnight Mass) celebrated by the Filipinos in Calgary, kicked off with the first night of the series at The Canadian Martyrs Catholic Church in Northmount Drive NW, last December 2, 2011. The former Parish Priest of the said church Fr. Rudy Badiola was the celebrant and our very own Knights of Columbus All Filipino Council 14746 was the sponsoring group.
The night started off with the K of C Choir's Christmas and Religious songs as mass goers came in through the doors of the church. Our men in suit serenaded the participants with an array of songs that highlights the spirit of the Christmas Season.
Father Rudy Badiola, who will soon celebrate it's 50th Anniversary in Priesthood (April 2012), is an icon with the Filipino Catholic Community.  Together with the K of C, the churchgoers, and Fr. Badiola, the first of the series was a success.  Fr. Badiola's homily was timing with the season's celebration of Jesus Christ's birthday.  He emphasized on Christ being in the word of Christmas. That each and everyone must be unanimous in the celebration of Him, as the son of God. He reminded the people of the solemnity of the Season and not the material things from the many gift-giving activities that abound when Christmas Day arrives.
After the mass, the Grand Knight of the Council announced an after-rites dinner from the potluck that the Council brought in for everyone.  He also mentioned a couple of important activities within the Council.  The youth division of K of C called Columbian Squires' Winter Special concert, and the big celebration to happen in April for Father Rudy Badiola.
Everyone left with delight that the annual novena celebration of "Simbang Gabi"  is still in the hearts of all Filipinos even though the chills of the winter night is just around the corner.  Our solidarity to maintain our Christmas traditions of "Caroling" and "Mass Celebrations" to honor Jesus Christ never fades away.