"SOMETHING NEW SOMETHING TRADITIONAL"
nikko gueco (food inc)
Recipe: Annamarie Angeles-Manaog
Photo: Deo Angeles
Here's a little twist to our traditional Christmas fare. Something to make us feel that atmosphere of "Simbang Gabi" right here in Calgary. Enjoy this recipe as Anna would call her "not so traditional bibingka". Anna tries to create art from her oven as often as she can. So here's her recipe that she gladly experimented after my suggestion of making our traditional bibingka into a cup cake. After trying it herself twice in a row, here is the recipe of this newfangled bibingka for us this Christmas season.
**
**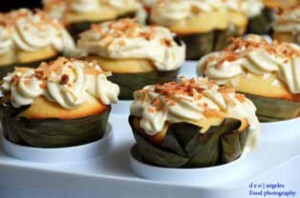 *NEWFANGLED BIBINGKA *
**
**
*Ingredients:*
*1 ½ cup granulated sugar*
*1/2 cup (1 stick) butter or margarine*
*6 eggs*
*1 cup milk*
*1 cup premium coconut cream (Thai)*
*2 teaspoons vanilla extract*
*3 cup rice flour*
*2 tablespoons baking powder*
Macapuno strings
Sweetened flaked coconut (toasted to golden brown)
*Procedure:*
*Line the muffin tin with cupcake liners ( I used banana leaf for added Pinoy touch). Preheat the oven to 350*⁰*F. Cream the butter and sugar well (around 5 minutes on medium speed). Slow down the speed and add eggs one at a time.*
*Mix flour and baking powder. Mix the milk and coconut cream. Add this to the egg-cream mixture, alternating with the dry ingredients a little at a time. Add the vanilla extract and stir. Fill cupcake liners about 3/4 full. Topped with macapuno strings then bake immediately for 25 minutes.
They are done when a toothpick comes out clean. When the cupcakes are done, let it cool for 5 minutes before removing from the tins. Completely cool the cupcakes before frosting with Coconut Cream Cheese.*
*Sprinkle with toasted sweetened flaked coconut.*
*Yields 24 cupcakes*
**
*Coconut Cream Cheese Frosting*
- 8-ounce packages Philadelphia-brand cream cheese, room temperature
- 1/2 cup (1 stick) unsalted butter, room temperature
- 1 cups powdered sugar
- 1/4 cream of coconut
- 1 teaspoon vanilla extract
- 1/8 teaspoon (scant) coconut extract
Beat cream cheese and butter in large bowl until smooth. Beat in powdered sugar, then cream of coconut and both extracts. Chill until firm enough to spread, about 30 minutes.