The Benefits of Informative Seminars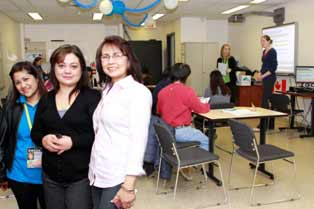 Tax Clinic 2012
by:  Tata "Tatsky" Gascon-Delos Reyes
The workshop recently held at the Calgary Immigrant Women's Association (CIWA) office was one info-session that many Filipino participants considered worth their while.  The Tax Clinic that began in January was a collaborative effort of the Filipino Community Development Program of CIWA with the help of Bridge Foundation for Youth, In-School Settlement Department and Sherissa Celis of Calgary Catholic Immigrant Society (CCIS). This was a commendable initiative to conduct additional aid to all Filipinos regardless of their status in Canada with their income tax preparation. Made available with certain criterions, some of our "kababayans" were given the opportunity to understand and learn the Canadian Tax System which led them to a Do-It-Yourself Tax Preparation. With the endeavor to share the valuable knowledge, the organizers were able to divert some of them to paying high costs of getting their tax returns prepared by Professional Tax Preparers who could charge a hefty amount just to avail such service.
Arnida Guillermo, Rosette Ramos (In-School settlement worker of Bridge Foundation), Sherissa Celis, and Aileen Singh (CIWA), organized this clinic to happen. As most Filipinos are capable of doing their own tax returns (because some of them are degree holders back home), this tax clinic was one great welcoming activity, especially for those who just came to Canada in the year 2011 and as such, are first-time tax filers.
The response to the call for participation was a huge success.  Enthusiasm came from various sectors of the Filipino Community. There were immigrant newcomers, foreign workers, and recently awarded permanent residents who came from either the Temporary Foreign Worker Program (TFWP) or Live-In Caregiver Program (LCP). They all have one thing in common… their thirst for knowledge. Altogether, from the 4 sessions conducted at different dates, the participants totaled 114. Special thanks goes to Canada Revenue Agency's Leora Mazury, who led a team to cover the project.
Overall, the Clinic this year was tremendously successful, relevant, and useful. The elimination of hesitations to do your own tax return was instilled in the hearts and minds of these participants and the organizing committee surely welcomes a repeat performance in the future year/s to come.