Edmonton Performing Groups: Philippine Choral and Pacific Island Dance Troupe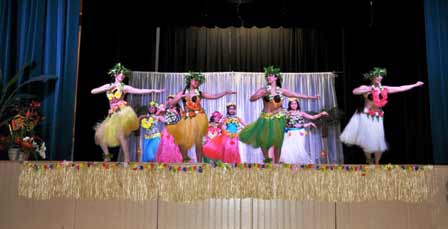 by Ida Beltran-Lucila
For  this issue,  I would like to spotlight on two Edmonton performing groups, both of which have   shown passion and dedication to their  respective artistic endeavors – the Philippine Choral with   leaders Artie Atienza, Ray  "Bart" Kavinta and Chito Atienza; and the Pacific  Island Dance Troup,   headed by Emily  Soriano.   These two groups we have continually  worked with, due to both our   respect for their artistic outputs and the friendships we have developed.   They  are also featured   performers in the upcoming Philippine Arts Festival  this June at the University of Alberta's Myer Horowitz Theatre.
Philippine  Choral  -  formed  in  1991  from  a  group  of  friends  who  constantly   gathered  in   basements  for  karaoke  nights.    Fortuitously,  they  discovered  at  that  time  that  Mil  Villareal,   Cebu's best musical  director and  regarded by  many  as a musical genius, was quietly retired in   Edmonton.    Through  mutual  friends,  they  were  able  to  set  up a  meeting,  and  immediately   worked on    forming a  four voice group.   Within a week  they  had a  four-part choral harmony of   the kundiman  "Dahil  Isang Bulaklak" down pat.   Composing this founding group, among others,   were Ferdie Belvis, Onie Nitoral,  Rene Alcantara  and Delia Marsh  – who  the  other members   fondly   recall  as  their  Tony   Bennett,  Ray  Valera,  Yoyoy   Villame  and  Barbara  Streisand,   respectively.  And of this original group, five are still active members of the choral – Artie Atienza,   Alex de Leon, Chito Atienza, Gilda Yee, Leny Dagondon
This love of singing  then branched out to the local church community  in Edmonton.   Currently,   they are  now one  of  the  most  sought  after  cultural  performers  for  major  events,  community   functions and  special  promotions throughout  the  city  of Edmonton. And   with  these  increasing   engagements, came  an expansion of  their  repertoire  to Filipino, English, Spanish,  Italian  and   French  song  favorites.    In  1999,  they  had  a major  concert  at  the Winspear  -  the  first Filipino   group to perform at this prestigious venue.  This sold out concert featured a 10-piece orchestra,   culled from  members of  the Edmonton Symphony  Orchestra.   Other  concerts were held at the   Myer Horowitz Theatre and  Victoria's Eva O. Howard Theatre.   They also  had a  road  tour  of   Filipino  restaurants  for  a  period  of  three weeks.   A pipe  dream  is a  performance of  songs of   faith, hope and love in a stone-built Catholic cathedral.
Current membership  is  a  high  of  24,  comprising  8  sopranos,  6  altos,  5  tenors  and  5  bass,   always of Filipino descent.   An exception however, was made when Angela Chen, of Taiwanese   descent  and  who  earned  her  Master's  Degree  in  Music  and  Voice  from  a  conservatory  in   Vienna,  wanted  to  join.    Fluent  in  6  languages,  she  was  able  to  tackle  the  Filipino  lyrics   competently.   Membership is open to both professionals and non-professionals, Filipino or non-  Filipino – the essential requirement being a pure love for singing.
Moving on to its third decade of existence, the group shows no signs of slowing down.   For  the   members,  their  continued  rehearsals is a source of  therapy  and a good excuse  to  share  food   and  drinks.    It has enabled  them  to  simultaneously  fulfill  a  passion  and  establish  friendships.
This all  together gives a whole new meaning  to  their  title as Musical Ambassadors of Filipino-  Canadian Goodwill.
Pacific Island Dance Troupe – Last April 20, the Pacific Island Dance Troupe had their 7th   Luau, and indeed it turned out to be a night of hawaiian/polynesian dancing, games, and good   food.  On hand were booths for face painting, photo booths, crafts table, and jewelry.  People   came decked in Hawaiian attire and reveled in the performances of hula, tahitian, and a few   modern take dances.  The event showed all the traits of the indefatigable Emily Soriano, who   harnessed her years of experience as a cultural dancer in the Philippines, an event organizer,   her good eye for design and penchant for fun.  This group, who not only performs Hawaiian/  Polynesian dances but also Philippine folk dances, has consistently participated in Heritage Days   and community events.  It adds another dimension to the interesting landscape of Filipino   offerings in the Edmonton arts scene.
* For feedback and upcoming events, send to ida_b_lucila@yahoo.com.