Quest for the Crown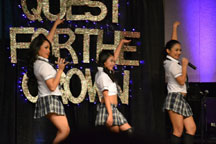 by Tata "Tatsky" Gascon-Delos Reyes
When Pinoy Times was  asked to participate as media sponsor for a  local concert here in Calgary, there was no second thoughts for the Publisher to offer its affirmation.  Pinoy Times is all about reaching out to the Filipinos in Alberta.  The promotion was not as grandeur as those of the big events that hosts international talents from back home. In fact, it was organized to raise additional funding so that 3 of our local beauties can participate and represent Calgary in the forthcoming Miss Belleza International in the island of Hispaniola Dominican Republic in April 2013.
Simone Renee Amorado, Ericka Rosal Omnas, and Ashley Rose Rosales, are three aspiring beauty talents who will compete to hopefully bring some bacon home.  Together with the help of their families and friends, the three came up with the idea of combining their love for singing and offer the local Filipino-Calgarians a night of musical extravaganza.
On Friday night, November 2, 2012 at the Eastside City Church performance hall, the three staged out to entertain their friends and gave their all out in order to prove to everyone why they deserve to be in the Dominican Republic next year.
I personally came to witness how they captured their audience with "ooohs" and "aaahs".  Indeed, not bad for starters who only wish to bring out their bests.  Singing their beloved pieces, these talents are sure gems of this City.  As they alternately take their turns, Simone, Ericka and Ashley truly gave their audience something to remember them by.
Let us all congratulate them in advance.  Whether they bring the title or not, they will definitely make us all proud.
The three will compete in the following:
Simone Renee Amorado in Miss Belleza International Pre-Teen Philippines 2013
Ericka Rosal Omnas in Miss Belleza International Senior Teen Philippines 2013
Ashley Rose Rosales in Miss Belleza International Petite Philippines 2013