Kuya Bong's Kusina
Baked Leche Flan Baked Leche Flan, I was reading a lot of baking technique for making a leche flan which is normally cooked by steaming. Most involved complicated use of double baking pan with water barrier between the mould or llaneras. Today I tried to make it easier by simply baking the leche flan straight from the mould. I just baked the leche plan custard in a small cake pan at 300ᵒF to 325ᵒF for about 1 hour and the result was good it is comparable if not better with steam cooked leche flan. I could not compare the result with leche flan baked on a baking pan with water bath heat buffer for the reason that I have not tried such technique. The recipe of leche plan is standard the only deviation you could do is adjust the sweetness buy adding more milk or using more eggs. Some recipes call for using whole eggs. Flavouring defends on your own selection you can always use flavour essence or just the rind of some citrus fruit. For presentations I topped the leche flan with some strawberries, cherries and grapes. Here is the recipe of my baked version of Leche Flan.
Ingredients: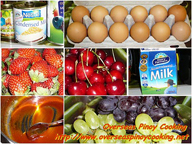 For the custard:
8 egg yolks 1 350ml can condensed milk
1/2 cup fresh milk
1/2 tsp. finely grated lemon rind
For the caramel:
3/4 cups white sugar
For fruit toppings:
strawberries cherries red and green grapes
Cooking procedure:
In a small pan heat the sugar at low heat until it start to melt. Now continuously stir the melted sugar until it caramelised, when the color start to change to golden brown remove from heat and pour on to the mould tilting the mould to uniformly cover the bottom. Keep aside to let the caramel solidify. In a big mixing bowl mix and blend all the ingredients, whisk slowly to avoid air bubbles. Pour the leche flan custard into the mould and tightly cover with aluminium foil. Place in an oven pre-heated at 300ᵒF to 325ᵒF. Bake with the same temperature for 45 to 60 minutes. Or when the fork is inserted at the center and comes out clean. When done remove from the oven keep aside to cool down to room temperature. Place in refrigerator to chill before serving. To serve, run the handle of a spoon or fork around the mould sides then unmold by inverting onto a serving platter. Top with the fruit toppings.