Kuya Bong's Kusina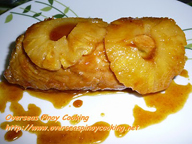 First of all, I want to greet all PINOY TIMES' readers, A MERRY CHRISTMAS AND A HAPPY NEW YEAR! Although I am here in a far away land, not in Canada, I can feel that everybody out there is now getting ready for the celebration of the Holiday season. So for our December 2012 issue, I decided to gather some recipes that you can try either for Christmas dinner or for New Year's eve celebration. I hope that everybody will have the spirit of sharing and caring during the holiday festivities. Again, MALIGAYANG PASKO AT MASAGANANG BAGONG TAON sa inyong lahat!
Pork Loin Pina Hamonado
Pork hamonado with pineapple is another popular Christmas dish that I want to share. My pork hamonado version is easy to prepare there is no rolling, tying or even wrapping. The pork that I used for the recipe is the loin part (lumo). To prepare you will need a whole pork loin, any other whole pork cut may also be used. Trim the ends of the pork loin to make it square as I call it, this is to facilitate easier insertion of stuffing. Using a thin knife make several stab cuts at the pork loin ends where you could insert the carrots, sweet pickles and pineapple stuffing. The depth of the stab corresponds to the strips of carrots and sweet pickles. Do these at both ends of the pork loin for easier insertion. The only hard part is inserting the pineapple stuffing, just force them with your finger will do the job. Here is my version of Pork Loin Pina Hamonado.
Ingredients
1 large size pork loin, ends trimmed
4 slices of canned pineapple, 2 slices cut into chunks, reserve the remaining slices, reserve syrup
4 whole sweet pickles, cut into 4 strips each
1 large size carrot, cut crosswise in half, then cut into 4 strips each half
4 tbsp. honey
1/2 tsp. garlic powder
salt to taste
Cooking procedure:
Using a thin knife make several stub cuts at both ends of the pork loin, the stub cuts should correspond to the length of the carrots and sweet pickles strip stuffing. Insert the stuffing on each stub cut, use your finger to insert the pineapple chunks stuffing. Marinate the prepared pork loin with the mixture of reserved pineapple syrup, honey and garlic powder. Season with salt to taste. Let marinate for at least overnight. In a sauce pan place the marinated pork loin including the marinade. Bring to a boil and simmer at low to moderate heat for 15 to 20 minutes or until most of the marinade syrup has evaporated, constantly turning the pork loin every now and then. Continue to cook at low heat until the syrup start to thicken and caramelize, at this time add the reserved pineapple slices to shear at both sides. When done transfer into a serving platter, arrange pineapple slices and pour over the syrup. Serve in slices.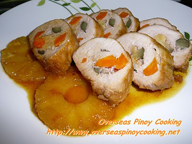 Chicken Embutido
Chicken Embutido is an alternative to the more popular pork embutido that is usually served on special occasions including the Cristmas Noche Buena or New Year's Media Noche Celebrations. There is nothing special cooking method with this chicken version of embutido. I have baked the embutido rolls for the reason that I wanted to check the suitability of baking embutido instead of steaming. As expected the result was positive, and in fact I could tell that embutido rolls wrapped with aluminium foil is more convenient cooking method than steaming.
When the embutido is wrapped with aluminium foil the mixture is totally sealed thereby only the heat from the hot steam is used to cook the embutido, and I could safely say that any aromatics in the steaming water has no effect. Of course if sinsal is used as a wrapping then it should be cooked with steam with all the additional aromatic ingredients added to the steaming water. Searing the embutido before serving will caramelize the outside of the embutido roll which somehow enhance the flavour. Here is the simple recipe of my chicken version of embutido.
Ingredients:
1/2 kilo ground chicken
1 cup ham cut into strips
2 cans Vienna sausage, chopped
1 piece Spanish chorizo, chopped
1 small size carrot, chopped
1 medium size onion, chopped
1/2 cup raisins, sultana and apricot
1 cup grated cheddar cheese
2 tbsp. pickled relish
2-3cloves garlic, finely chopped
1 egg, beaten
salt and pepper to taste
8 pcs. hard boil quail eggs
cooking oil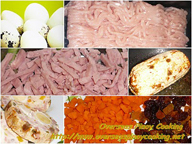 Cooking procedure:
In a big bowl combine all the ingredients (except the quail eggs and cooking oil) and mix until well blended season, with salt and pepper to taste. Divide into two portions and set aside and place each portion in a square aluminium foil. Platen each chicken mixture and arrange 4 eggs at the center of each mixture and hand roll until the mixture covers the eggs. Now roll the roll the aluminium foil into a tightly packed log about 2 1/2" in diameter, seal both ends. Arrange the embutido side by side in a baking tray and bake for 30 to 45 minutes at 325ᵒF to 350ᵒF. Alternately steam for 45 minutes to 1 hour. When done let it cool and remove the aluminium wrapping. Before serving heat generous amount of oil in a frying pan and sear the embutido on all side. Slice into rings and serve with banana ketchup.