How do you stay motivated?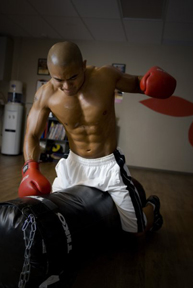 Now that the month of February has arrived, many of you who are struggling with your New Year's Resolutions and 2013 Health and Fitness Goals have been asking me, "How do you stay motivated?  I can't fight the cravings and I can't find the time to workout."
ONE LIFE – ONE CHANCE
Here's what I tell them:  I want you to know that you're not alone in this struggle.  Since you're already aware of the health risks and damaging effects a bad diet and lack of exercise can do on your body, energy and self-esteem – and yet you still can't fight the cravings; or get your butt off the couch; you're going to need to dig deeper and find that emotional reason.  There is no benefit at all to giving into the cravings.  When you put "junk" in your body – there is NO POSITIVE, NO BENEFIT for doing so.  Find something that you would be willing to die for!  Everybody will have their own emotional trigger.
"WHEN WRITING THE STORY OF YOUR LIFE – DON'T LET ANY ONE ELSE HOLD THE PEN."
Harley Davidson
I'm gonna tell you what my emotional trigger is:
My CHILDREN: (I have three – a five year old daughter and two twin boys who are 16 months old)
I want to be a positive role model
I want to show them that being healthy is right
I want to show them that being active is better than being on the couch
I don't want them growing up with any health issues, or limitations
I don't want them to go through any struggles with bulllying, peer pressure or embarrassment because I want them to have a strong self-esteem
I don't want them to be embarrassed of me because I am weak, overweight, etc.
I don't want them to worry about me and my health
I want the energy and strength to play with them, teach them sports, run and jump and climb trees with them
I want to know that in the face of DANGER – that I will have enough strength and energy to come to their rescue
I want to teach them that there will be struggles, but with discipline and focus – you can achieve anything.
I want to teach them how to set goals and not be afraid of reaching for the stars
I want to save money on health care, medications and use that money for family vacations and other fun events
….and because I want to stay alive so I can watch them grow up to be the persons they can be
One of my greatest fears is to one day NOT be there for my kids – and having to have somebody else raise them.  I have been given this opportunity, this time, right now to make a difference and make an impression in their lives.  I don't want to waste it with, "I'll start Monday."
"DO IT NOW, SOMETIMES, "LATER", BECOMES, "NEVER."
Do it for your KIDS.
It's up to you.
"IT'S NEVER TOO LATE TO BECOME WHAT YOU MIGHT HAVE BEEN."
Jay Raymundo