Council and Assembly of Filipino Foundations and Associations CAFFA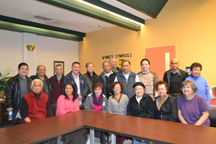 by: Tata "Tatsky" Gascon-delos Reyes
Meet & Greet
The meeting held last March by the officers and members of the Council & Assembly of Filipino Foundations and Associations otherwise called as CAFFA, was the first time for yours truly.  My involvement with the Filipino Community events and happenings around me are getting more and more and I guess it is because I wanted to make my vigilance rate up a notch in order to slowly understand better why there are several groupings in the Filipino community here in Calgary.
The answers did not come quick.  In fact, there is still no definitive reply to my curious mind. I guess will have to work on that as I step up and review the different organizations under the so-called umbrella group CAFFA. In conversing and
email exchanges with the CAFFA Secretary, Ms. Teofy Buluran confirmed that the Council has about 24 member groups and looking at the list, all are of various nature, vision, and mission.  I am mostly interested to explore the Seniors' grouping where I find 6 in the list of CAFFA's roster.
I salute the men and women of Calgary who gathered together to form a group that embraces the smaller group
ings into one. I commend the leadership they have and honor the dedication they put together.  For the outgoing President, long time Calgary Lawyer and Community Leader Atty. Richard Tumanon, I raised my cup in your quest to bring everyone closer.
The CAFFA is in the middle of planning the celebration of our 115th Independence and is slated to commence on June
9, at the Eastside Community Church grounds. Individual group activities may be announced through this publication. And for the information of our many "kababayan" readers the following are the members of CAFFA:
CALGARY FILIPINO LIONS CLUB
CALGARY WILDROSE LIONS CLUB
CAPAMPANGAN ASSOCIATION OF CALGARY
DIAMOND SENIORS CLUB OF CALGARY
FILIPINO CABLETOW SOCIETY OF CALGARY
FILIPINO CALGARIAN SENIORS CLUB
FILIPINO CANADIAN AMATEUR SPORTS FOUNDATION
FILIPINO CANADIAN (CARE) FOUNDATION
FILIPINO CANADIAN YOUTH ENHANCEMENT & SCHOLARSHIP (YES) FOUNDATION
FILIPINO ORIGINAL SENIORS ASSOCIATION (FILOSA)
FILIPINO OVERSEAS WORKERS ASSOCIATION  OF SOUTHERN ALBERTA (FOWASA)
GOLDEN GENERATION SENIORS CLUB
KASAYAHAN PERFORMING ARTS FOUNDATION
KNIGHTS OF COLUMBUS SAN LORENZO RUIZ OF CALGARY COUNCIL 14746
NEW CANADIAN SENIORS ASSOCIATION OF CALGARY
NEW SUNRISE SENIORS CLUB
PANGASINAN SOCIETY OF CALGARY (PASOC)
PHILIPPINE CALGARIAN SOCIAL CLUB
PHILIPPINES RURAL ECONOMIC AND SOCIAL ASSISTANCE FOUNDATION (PRESAF)
PINOY RADIO/PHILIPPINE CANADIAN BROADCASTING SOCIETY
POLITICAL ACTION GROUP
POSSIBILITIES IN MOTION (PIM) FOUNDATION
YOUNG ONCE SENIORS ASSOCIATION OF CALGARY
VISMINSA CHARITIES FOUNDATION