Road Trip: Drumheller "Dinosaur Capital of the World"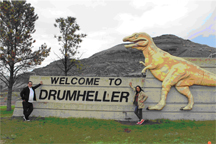 By: Fernando A. Chuidian
Faced with the prospect of a long  dull weekend in celebration of Victoria Day last May 20, my wife and I decided to bring the kids for a short but exciting weekend getaway trip.  Our destination?  Drumheller, dubbed as the Dinosaur Capital of the World, located 41 miles NE of Calgary,This once upon a time coal mining town is one of Alberta's most visited sites during the summer season. The place attracts local and foreign visitors alike all wanting to explore and discover what this seemingly desolate town has to offer. Its main attraction? Dinosaurs.
So off we hit the road  on our  way to Alberta's largest town named after Samuel Drumheller who pioneered coal mining in this  quiet town . Although weather was not that ideal  as it was drizzling all throughout our 2 hour  road trip  which started at our SW Calgary home but nevertheless the thrill  of wandering to this land once inhabited by prehistoric creatures that roamed this side of the planet all the more excites us  first time visitors.
The early 90's hit movie Jurassic Park runs vividly into our imagination as we traverse the Canadian Badlands crossing vast track of agricultural lands and oil wells. After hours of  long gruelling drive we reached our first stop a place called Horseshoe Canyon, this is one of the rare places where you can marvel  the beauty of nature at its best.  The sight from the canyons viewpoint pull over is truly breath taking and its colorful defined landscapes are considerably a nature's work of art.
Next on the list of our must visit is the world renowned Royal Tyrell Museum of Paleontology, considered as one of the largest in the world of its kind, It is named after Joseph Burr Tyrell, a geologist explorer who distinctively  made the first rare find of a dinosaur fossil near where the museum stands today. His discovery eventually led to the period of the great Canadian Dinosaur rush of 1910 – 1917.
As we headed on our way to the museum, we chanced upon this unique and one of a kind structure by the roadside which appeared to be a little church. This small replica of a church apparently draws quite a number of curious onlookers and worshippers but the irony of it is it can only seat six persons at a time.
After a brief side trip to the mini church we finally made it to the museum and true to our expectations and amazement, this place is a showcase to almost 50 life size creations and reproductions of pre-historic creatures that lived millions of years ago.  Here is where they re-create mounted skeletons of dinosaurs using rare find fossils. The museum also features different exhibits, evolution of man, dioramas, descendant of rare plants and flora species and an actual demo of extracting embedded fossils on hardened mud and stones. It took us almost two hours to tour the entire facility after which   we had lunch at the museum's cafeteria and bought some items at their souvenir shop.
Our group then decided to head towards downtown Drumheller, One can't help but notice the different dinosaur replicas adorning most local establishments within the town proper but the sight to behold is the mother of all dinosaur replicas towering at a height of 86ft and 151ft long. This gigantic monstrous Godzilla-like structure has stairs inside its body leading to a view platform within its mouth.  Among the many attractions in downtown Drumheller is an Aquaplex which has an indoor and outdoor swimming pool, children's water park and a carriage ride around downtown area.
Next stop for us was the Rosedale Suspension Bridge built in 1931. This hanging bridge runs across the Red Deer River and was used in the past by miners at a nearby camp to get to and from their work.  Crossing the bridge from one end to the other can serve as a good body- balancing exercise for anyone who dares cross it.
The last leg of our Drumheller trip brought us to a magical sounding place called Hoodoos. This place is a site for strange rock formations some were shaped like giant chess pieces, others looked like humongous mushrooms. Here you can find  giant rock boulders balancing on top of each other all aligned to form odd and strange shapes. We all can't help but wonder how those boulders ended up in such positions that form different rock formations in pure spectacle.
As we  conclude our  fun filled trip to this dinosaur land and head back home we came to realize that this  quiet and laid back town  of Drummheller has more than just a history  of a long lost world to offer but also the beauty and  serenity  of the place is truly indeed one of its  most admired treasure.