TRAVEL TIPS TO CUBA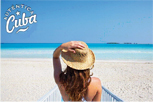 Cuba is not just another typical holiday island. With its colonial-style towns and cities, its magnificent countryside, its attractive surrounding seabed, its varied culture and its people-widely renowned for their uniquely hospitable character-Cuba reveals itself to the world, with generosity and pride in its many charms and attractions.
WHEN TO GO
The best time to visit is from December to May with dry sunny days. From June to November Cuba can be hot, humid and wet. During the winter months of December and January daytime temperatures can drop below 20 degrees centigrade whilst in the summer months of July and August temperatures soar, especially in Havana and Santiago de Cuba.
WHERE TO STAY
All over the island, whether in towns and cities, at beaches, or in the countryside, the range of accommodation is attractive and comfortable.
WHAT TO DO
PINAR DEL RIO-Experience something ordinary and take a tour to a local tobacco plantation. Watch cigars being rolled by hand using old traditions passed down from generation to generation.
HAVANA-Havana's energy is sure to captivate. Visit city plazas including the historic Revolution Square as you wander by colourful buildings and markets in this unique and magical city.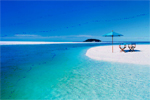 VARADERO-the most attractive of Cuban beaches, the resorts are particularly notable for its broad, clean, fine sandy beaches as well as its spectacular sunsets and exciting nightlife. The Josone Park is the perfect place for rest and relaxation; Mambo Club is the place to go if you are interested in music and dancing. For golf lovers there is the Varadero Golf club, a magnificent 18-hole, par 72 course; Cabaret Tropicana offer a true reflection of the local culture and character; the Dolphinarium is the place to go for those who love to observe marine creatures.

CAYO LARGO-The Sirena and Paraiso beaches, the two most attractive beaches on the cayo are ideal for nautical activities, as well as diving, horse riding and motorbiking.Isla de la Juventud has more than 80 diving sites, the surrounding seabed is a fascinating environment  with a series of caves and walls of black coral,wreck of ancient galleons all of which made the area  a favorite for underwater photography competitions.
VILLA CLARA-Vidal Park, Santa Clara,The Resort of Elguea-known for the curative and medicinal qualities of its sulphurous waters are well worth a visit.
CIENFUEGOS-known as the Pearl of the South, The Nuestra de los Angles de Jagua Castle, Historic Centre, the Palacio de Valle.

TRINIDAD-The city museum of Cuba, it has retained the magic of its colonial past, its historic center, cobbled streets.The Museo Romantico, Playa Ancon,The Cayo Blanco Diving Center are worth a visit.

WHAT TO EAT
Fresh Potato Chips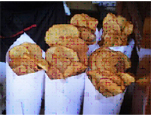 Fresh potato chips from a window on the same side of Paseo de Prado as the Hotel Saratoga, across from the capital.
Freshly Fried Churros

The line outside the churro street vendor was a good sign. So was the fact that he was making them to order in clean oil. These churros were light, crispy, and chewy, and the fact that they were slightly greasy somehow added to their appeal.
Roast Pork by the Kilo
You can eat your meal at the regular restaurant at El Palenque and get roast pork as your main dish, and you will be rewarded with a perfectly fine plate of food featuring extraordinarily good rice and beans, or you can maximize your pork-derived serious eating pleasure by ordering it by the kilo at the take-out section of the restaurant.
Grilled Lobster Tails and more at Paladar Vistamar

Paladar Vistamar has a glorious setting overlooking the water, and the chefs there made the best white tablecloth, fancypants restaurant meal in Havana. The grilled lobster tails were meaty, slightly crunchy on the outside, and would have been perfect if they had been taken off the grill a minute earlier. The ropa vieja was a classic, paradigmatic version of the popular Cuban dish. The shredded beef was moist and tender, and the sofrito-based sauce tasted like the essence of Cuba. For dessert, their key lime pie was tart and spicy and had a delicate, flaky bottom crust.
Tres Leches Chocolate Fondant
Tres leches chocolate fondant dessert at the spooky Paladar La Guarida, was really a hot fallen chocolate soufflé. It was rich and chocolat-y and had the amazing light but creamy texture that a perfect souffle has.
VISA & PASSPORT
Cuba will give you a visa / touristcard, however, you must acquire the visa before you arrive.
You can accomplish this by contacting the nearest Cuban Embassy or Consulate in your country, except for citizens of the USA, whom wil be issued a visa onboard their flights to Cuba.
Passports
Ensure that your passport has at least 6 months left till it expires, calculated from your departure date
Electricity
Cuba has 110 volt, some more luxury hotels also 220.
Drinking Water
It is recommended that you drink bottled water while in Cuba. Most hotels offer bottled water in your hotel room and can also be purchased in the hotel's shop and in grocery stores. The ice and drinking water served in the hotels are generally made from purified water.
Long Distance Calls
Long distance telephone charges in Cuba can be quite expensive. It is recommended to make a collect call or use your calling card. Service charges may apply when calling from your hotel room.
Safety Deposit Boxes
Please use your safety deposit box for all your valuables, cash and travel documents. Some hotels in Cuba provide safety deposit boxes free of charge while others may require a nominal fee. You will be required to pay a penalty fee if you lose the key.
Resort Safety
Traveling to foreign destinations can be very exhilarating. Tourists must be aware that potential problems and risks to your personal safety could exist anywhere. Please use the same personal safety precautions and common sense on your vacation that you would at home e.g. apply sunscreen frequently, do not swim alone and do not display cash. Avoid venturing out alone and beware of dark or isolated areas.
Taxes and Tipping
Generally, taxes are automatically added to purchases. The tipping percentage is similar to that at home. If you receive good service, please express your gratitude and offer a tip.
PROMOTIONAL FARES
CALGARY-DEPARTURE
ORLANDO-AUG15-AUG29 -$506
PHOENIX-JUL03-JUL10-$328
VANCOUVER-JUN14-JUN17-$314
TORONTO-JUN30-JUL04-$531
LAS VEGAS-JUL09-JUL16-$351
CANCUN-SEP04-SEP11-$463
MONTEGO BAY-NOV 05-DEC 05-$613
MEXICO CITY-JUL11-JULY18-$616
LONDON-JUN13-JUN20-$844
BEIJING-AUG26-SEP27-$903
PARIS-NOV13-NOV27-$975
BANGKOK-SEP09-SEP16-$1118
MANILA-SEP11-OCT1- $1279
CRUISE
4 NIGHT BAHAMAS
SEP09-$229
7NIGHT CARIBBEAN
SEP01-$698
12 NIGHT SCANDINAVIA/BALTIC
JUN20-$849
15 NIGHT GREENLAND/ICELAND
AUG31-$997
Availability and pricing are subject to
change at any time without notice
and are not guaranteed to be available
for any period of time.