1st Annual Adamson University Alumni Association Calgary Chapter Charity Golf Tournament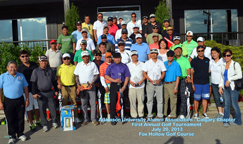 Adamson University Alumni Association Calgary Chapter (AdUAACC) held its inaugural charity golf tournament at Fox Hollow Golf Course last July 20, 2013. Forty eight players had a lot fun and compete for the 3 major trophies. Congratulations to our winners, Dom Tolentino  for Class A, Jun Cabsaba for Class B and Sid Llovia for Class C.


We have been blessed with a nice weather and great people who join us for this great cause. Everyone enjoyed the game, steak dinner, and the prizes/giveaways.
The fundraiser aligns with one of the many objectives of the association. One of them is to provide financial aid to deserving and high-achieving Filipino students who wanted to study at Adamson University . Currently, our association is providing scholarship to two students in the Philippines. One is in 3rd year in B.S. Civil Engineering and the other in her 2nd year in Tourism and Hospitality Management. The proceeds therefore of the event will be to support the two students.
AdUAACC would like to thank our sponsors most especially to Cummins, Tenaris and Pacific Hut, and to our friends who have contributed to the success of the event. It was a great experience for the group and we look forward to see you next year.
For all Adamson University alumni there will be a Family Picnic day on August 31, 2013 at Lake Chaparral. Please come and share with us the fun. You can check our website at http://adamsoncalgary.shawwebspace.ca/ for contact info.