PINOY ITO, ANONG SAY MO……..
by Roberto Ugaddan
WHAT IS THE MOST EXCITING PART OF STAMPEDE FOR YOU AND YOUR FAMILY THIS YEAR?
FLORA MALIG
What made this year's Stampede wonderfully different was that despite the devastating flood that happened merely a few days prior, the show went on a high-spirited note. For instance, they incorporated the message of the YYC flood in the TransAlta Grandstand Show, which showed the great community spirit of Calgary. Stampede 101 has become a great representation of the city's resilience and determination.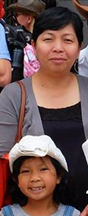 RICCIA LACONSAY

The most exciting part of Stampede for me, not just this year but every year, is the Stampede Parade. I love the crowd and the festive feel of the city. My kids enjoy the rides and games in the Stampede grounds the most. As a family, we look forward to watching Superdogs every year.
RON ALLAN GO
It was our first time to watch live rodeo. The most exciting and funny part would be the kids trying to ride the pony and most of the time they are being dragged. Cowboy kids are doing the marshal. There are lots of ride for all ages and lots of food choices.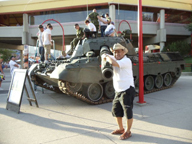 JUN DOMINGO DE VERA

I think its all about family bonding… That is the most important… Parade, rides its just the second one.. 

ROCHELLIE UGADDAN
It was fun time going to the Stampede this year because my 4 year old daughter, Valari really had a good time because she was able to go on more rides than the year before. There were lots of food trucks to chose from and lots of variety. My daughter also enjoyed the agri-center especially the native chicken that was displayed on the grounds with a wired cage. Mascots we all over the grounds and both adults and children love to have pictures with them. The Stampede festivities was truly the greatest show on earth and despite the flooding it was another success…….as the th-shirt says……HELL OR HIGH WATERS……THE SHOW MUST GO ON……..