Kuya Bong's Kusina
Generally, this is considered as an appetizer and a side dish. Most people like to have their Tokwa't Baboy with beer or wine by the side while others love to have it with rice porridge such as Arroz Caldo, Goto, or a simple lugaw.
I personally like to have the sweetened version of the sauce. In order to achieve the taste, I just add a few tablespoons of sugar in the vinegar-soy sauce mixture. Also, I sometimes literally sip the sauce as if it is some kind of soup (It may sound weird but I know others who does the same too).
Try this Tokwa't Baboy Recipe.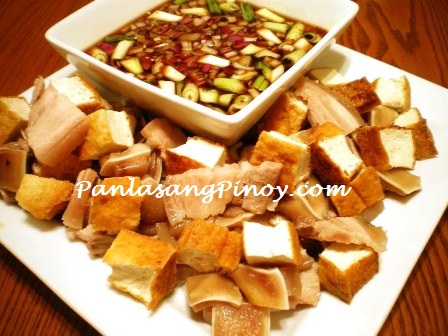 Tokwa't Baboy Recipe
Ingredients
1 lb pig's ears
1 lb pork belly (liempo)
1 lb firm (or extra firm) tofu (approx. 4 slices)
1 1/2 cup white vinegar
1/4 cup soy sauce
4 tbsp sugar
2 tbsp salt
1 tbsp whole pepper corn
1 small onion , diced
2 stalks green onions, cut in 1/2 inch length
5 cups water
2 cups cooking oil
Cooking Procedure
Pour-in water in a pot and bring to a boil
Add salt and whole pepper corn
Put-in the pig's ears and pork belly then simmer until tender (about 30 mins to 1 hour)
Pour cooking oil on a separate pan and allow to heat
When the oil is hot enough, deep-fry the tofu until color turns golden brown and outer texture is somewhat crispy
Cube the fried tofu and slice the boiled pig's ears and pork belly into bite-sized pieces then set aside
Heat the saucepan and pour-in the vinegar and soy sauce then bring to a boil
Add the sugar and stir then turn-off the heat
Allow the temperature to cool down then add the onions, green onions, and crushed red pepper. Transfer the sauce in a serving bowl.
Place the sliced meat and tofu in a serving plate with the bowl of sauce by the side
Serve hot! Share and Enjoy!
Number of servings (yield): 6