Concert Review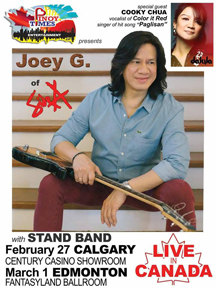 Joey G of Side A with Cooky Chua Live in Calgary
by Roberto Ugaddan
Who wouldn't know the name Joey G of Side A? The  frontman  of 
Side A
a 
Filipino
pop
band formed in 1985 who gained recognition in the Filipino music scene in the 1980s, 1990s and early 2000s, best known for their hit single "Forevermore".
The Filipinos in Calgary were lucky enough to get the chance to witness an evening of not just excellent music but something they warms the hearts and soothes the soul.  If was indeed an evening of delight to all the music lovers.  Not to forget that Cooky Chua the vocalist of Color it Red was the special guest for the night.  Her repertoire won't be complete if we did not hear one of her popular songs of all time Paglisan.
The show will not be a success without our local bands Urban Grooves, Cultura and Uprising together with our #1 rapper Skipp and not to forget a young take bye singer Ira Espiritu.  Thank you for being a part of this show.
Pinoy Times Entertainment would like to thank all the sponsors who made the show a big success.  Likewise with all the media sponsors and all the volunteers for this event.  This production will also not be possible if not for our event director Alan Isidoro and technical director Evelyn Lopez.
Until next time, congratulations to Pinoy Times Entertainment for another job well done!