Senator Enverga proud of achievements during State Visit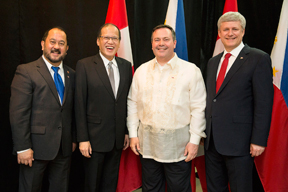 Ottawa, May 12, 2015 – His Excellency Benigno S. Aquino III, President of the Republic of the Philippines, concluded his official state visit to Canada last week.  The successful visit was marked by both countries' commitment to increase trade, to continue cooperation in security and development, and to nurture the close people-to-people ties, especially through the high number of Filipino immigrants coming to Canada.
"As Canada's first Senator of Filipino descent, I was filled with pride to see how successful President Aquino's state visit was," said Senator Tobias C. Enverga Jr. in a statement.  "I want to thank my fellow kababayans who showed up in great numbers in Ottawa and Toronto to welcome the President and our Prime Minister Stephen Harper, as well as those who gathered in Vancouver BC on the last day of the President's visit to Canada.   We showed His Excellency and our honourable cabinet ministers what a vibrant community we belong to, and how strong our commitment is to our new country," he continued.
During the Ottawa part of the visit, the two leaders announced the launch of exploratory discussions for a free trade agreement and of discussions towards upgrading the existing 1996 Foreign Investment Promotion and Protection Agreement, and the signing of a five-year mutual accountability framework reaffirming transparent, effective and sustainable development cooperation between the two countries.
In addition, the Canadian Centre for Occupational Health and Safety, and the Philippines' Department of Labor and Employment signed a memorandum of understanding to expand collaboration in the area of occupational health and safety, creating safer workplaces in the Philippines.  There were also several funding announcements made for projects for the continued support to displaced people in conflict-affected areas of Mindanao and for the reconstruction efforts following Typhoon Haiyan/Yolanda.
"Filipinos made up the largest group of new permanent residents last year, and we will continue to make positive contributions to our adopted home country.  I am proud to represent you in the Senate of Canada," Senator Enverga concluded.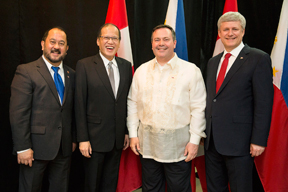 Senator Enverga, President Aquino, Minister Kenney and Prime Minister Harper at the Roy Thomson Hall in Toronto, May 8, 2015.
Courtesy: the Office of the Prime Minister