Sama-sama, Salo-salo Evening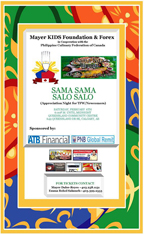 by: C.K.
Mayer Kids Foundation headed by Ms. Mayer Reyes and Forex headed by Ms. Emma Bohol held an appreciation night for Temporary Foreign workers and newcomers with free dinner and dance last February 6, 2016 at Queensland Community Centre.  The event was catered by the Philippine Culinary Foundation of Canada and Mama Nita's Binalot. Another round of applause to the major sponsors ATB Financial and PNB Global Remit.  It was indeed a very successful event for the Filipino community.  It was well attended and the everyone had a fun evening with great food, good music and great people.
We look forward to another event like this to get the camaraderie going amongst the Filipino in Calgary from no matter if they are temporary foreign workers, newcomers or permanent residents or even Canadian citizens.
Thank you once again to the organizers, Ms. Mayer Reyes and Ms. Emma Bohol.