Art in Island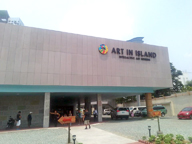 We always want to visit museums when we travel in other countries especially in Europe and in New York.  But how about going to a museum where you can be a part of the art? This is one ideal thing to do when you visit the Philippines and especially during the rainy season when you cannot go and visit any of the white sand beaches.  You can definitely stay in the museum for 12 hours in order to see all the different displays that will amazed you for the first time.
Art In Island is a 3D Art Museum open to public TUESDAYS-SUNDAYS and HOLIDAYS from 09:30AM to 09:30PM. Entrance fee is 500 for adults and 400 for students,   We also have discounts for senior citizen cardholders and PWDs. Art In Island will also be having events and promotions every month.
Whenever you visit an art museum, you are always expected to just look around quietly. You are not allowed to touch anything nor take pictures. You don't even have a single proof of you being there. That's why, for those who think that "art museum is not for me", we bring you ART IN ISLAND.
Art In Island allows visitors to interact and have fun with the art pieces. You can take as much pictures and videos as you want! Here in Art In Island, we want you to BE PART OF ART.
Art in Island is located at 175 15th Avenue, Brgy. Socorro, 1109 Quezon City, Philippines.
photo credits:  Normita Labao Cruz