Comic Expo Calgary 2016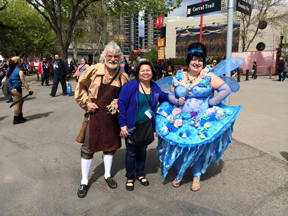 by R. Lywin
One of my best experience going to Comic Expo is knowing who the artists are who will be present during this 4 day festivities.  I was scheduled to go on a Saturday because I saw the line up of panel discussions with guests for the comic expo and I was very interested with the voice behind Chewbacca in Star Wars.  Finally, going to this year's comic expo gave a glimpse of the voice of this character in one of the most watched movies.
Peter Mayhew has played Chewbacca in fiveStar Wars films: the original trilogy (Star Wars, The Empire Strikes Back andReturn of the Jedi), Star Wars: Episode III – Revenge of the Sith and Star Wars: The Force Awakens. He played the role in the 1978 television film Star Wars Holiday Special and in an appearance on The Muppet Show. He also recorded dialogue for the Star Wars: The Clone Wars Season 3 finale episode "Wookiee Hunt".
Aside from meetings different actors and actresses for pictures and autographs, there were also lots of exhibitors from all over the U.S. and Canada. And an interesting part of this expo is the Cosplay where you see people dressed up in different characters.  It is such an exciting event to attend every year and this is the 10th year of Comic Expo in Calgary.
Don't miss out on this event, watch out for bigger and busier Comic Expo 2017 in Calgary!