Dare to stand on the edge at Glacier Skywalk??? It's worth a try…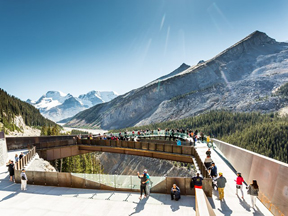 Your feet might feel floating on the glass floor that juts over the Sunwapta Valley in Jasper National Park. The wind rises as the river rushes far below. Overlooking mountains and glaciers, some 280 m (918 ft) up, it's like you're standing on thin air.
The Glacier Skywalk, an hour south of the town of Jasper, is one of the best nature and learning attractions along Alberta's Icefields Parkway. It's built into native bedrock with steel, glass and wood. Open May through October, this one-hour experience begins at the Glacier Discovery Centre just minutes away.
The Skywalk is only accessible by boarding a shuttle in the Discovery Centre's parking lot. During the brief wait, you can gaze at the Athabasca Glacier, which is part of the Columbia Icefield – the largest body of ice in North America at 215 sq km (130 sq mi).
On the short ride to the Skywalk, the shuttle driver explains the forest to the left is made up mainly of subalpine fir and Engelmann spruce, some of the trees upwards of 300 years old. With a growing season of less than 90 days a year, it's a wonder they can live so long.
You have to walk onto the cliff-edge concrete walkway that hugs the canyon wall, taking you through six water-themed interactive stations. Each one highlights interesting aspects including the area's geology, hydrology and more. I learned the Sunwapta Valley below was formed by a retreating glacier.
At the very last station there's  large model of the Columbia Icefield that has a wheel that you can spin to see how water flows from the icefield to one of Canada's three oceans and around the world. Wherever you're from, you can trace the water to your home.
You can booked to stay overnight at the Glacier View Inn on the top floor of the Discovery Centre. At night, they say it looks like the spine of the Milky Way is rising straight up from the Athabasca Glacier.
After the Skywalk adventure you can do the Glacier Adventure and take an Ice Explorer bus with giant rubber wheels up onto the glacier where we can fill a cup with the oldest, clearest, coldest water in the world.
Source:  Travel Alberta