GOLDEN GENERATIONS SENIORS CLUB GOES ON ALBERTA PRAIRIE RALIWAY EXCURSION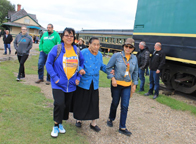 by C.K.
It was a nice day when the members of the Golden Generations Seniors Club took a bus ride to go on an exciting one day adventure on board a real steam or diesel-powered train. Different themes are enacted throughout the season, including murder mysteries, family, live stage show, seniors and teddy bear specials. For a day full of activities which is truly different and interesting, read on!
At some point during your excursion the train may be brought to a screeching halt. Look out! It's the dreaded outlaw "Reynolds Raiders". They are known to frequent these parts and on occasion hold up the train. But fear not the Canadian Métis hero, Gabriel Dumont, is there to stop them. After a short but furious gun battle, the money the outlaws took from passengers is retrieved. Since it's impossible to tell who the money belongs to, it is donated to a number of children's charities.
The train leaves Stettler, Alberta, and  returns five to six hours later. Stettler is located in the Heart of Central Alberta and is a leisurely three hour drive from Calgary; Alberta, two and one-half hours from Edmonton, Alberta.
All excursions include a full course buffet meal which is included in the fare, on board entertainment and maybe even a train robbery. All meals during the summer are presented in the community hall in Big Valley, a large tent in Big Valley or the community hall in Stettler.
It was a real fun day for our seniors and they definitely had fun during their one day excursion.  Big applause to the president of the Golden Generations, Mr. Ben Isidro and to his team for this wonderful experience for the members.