Kuya Bong's Kusina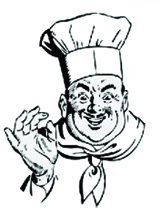 Crawfish in Coconut Milk with Spinach
This is a recipe involving crayfish. It is also known as crawfish and freshwater lobster. The dish is called Crawfish in Coconut Milk with Spinach. It is tasty and rich dish that is best paired with nothing but rice. This cooking method is known as "Ginataan" in Filipino.
Ingredients
3 lbs. crawfish, steamed
4 cups (2 cans) coconut milk
5 pieces long green chili
3 cups fresh spinach
3 tablespoons shrimp paste
1 medium onion, minced
3 cloves garlic, crushed and chopped
⅛ teaspoon powdered black pepper or white pepper
3 tablespoons cooking oil
Instructions
Heat oil in a cooking pot
Sauté onion and garlic until the onion turns translucent
Add the shrimp paste. Stir and cook for 30 seconds.
Pour the coconut milk in the pot. Let boil. Cover and cook in medium heat until it reduces to half.
Add the chili and crawfish. Stir and cook for 5 minutes while stirring every minute.
Slide-in the spinach and add the pepper powder. Cook for 2 minutes.
Transfer to a serving bowl. Serve with warm white rice.
Share and enjoy!
Nutrition Information
Serving size: 6
Lemon Garlic Butter Salmon Recipe
A simple salmon dinner such as lemon garlic butter salmon is all I needed to be able to relax and bring back all the energy that were consumed during the day.
Ingredients
4 pieces salmon fillet
¾ cup salted butter
4 sprigs thyme
2 teaspoons garlic powder
1 teaspoon salt
⅛ teaspoons ground black pepper
2 tablespoons canola oil
1 fresh lemon
Instructions
Combine salt, ground black pepper, and garlic powder in a small bowl mix well.
Arrange the salmon fillet in a plate. Rub the garlic powder mixture all over the salmon. Let it stay for 10 to 15 minutes.
Melt the butter in a pan. Add the oil. Set the heat between low and medium.
Gently add the salmon fillet and thyme in the pan. Do not use high heat when cooking with butter because it has a tendency to get burnt quickly. Cook each side of the salmon fillet for 7 to 10 minutes (in low to medium heat) or until the fish starts to brown.
Remove from the frying pan. Arrange in individual plates. Squeeze lemon juice on top.
Serve with white or brown rice and salad.
Share and enjoy!
Nutrition Information
Serving size: 4
Tuna Casserole Recipe
This tuna pasta recipe is quick and easy to prepare. All you need to do is mix the ingredients and then bake. Most of the ingredients for this recipe are common.
Ingredients
1 pack (12 ounces) gemelli or any short-cut noodles, cooked
2 cans (5 ounces each) tuna, drained
½ cup yellow onion, chopped
1 to 2 cups fresh mushrooms, chopped
1 cup french fried onions, crushed
2 cups sharp cheddar cheese, shredded
1 cup green peas, frozen
2 cans (11 ounces) condensed cream of mushroom soup
1½ teaspoons salt
Instructions
Preheat oven to 400 degrees Fahrenheit
Combine noodles, tuna, green peas, onion, and mushrooms in a large mixing bowl. Mix well
Sprinkle salt, pour-in condensed cream of mushroom soup, and add 1 cup cheese.
Toss until all the ingredients are properly distributed.
Transfer the mixture to a baking dish and top with crushed french fried onions and remaining cheese.
Bake for 18 to 22 minutes.
Serve. Share and enjoy!
Nutrition Information
Serving size: 6