Kuya Bong's Kusina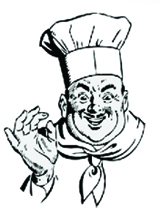 Tinola Chicken Mami
Tinola Chicken Mami is an interesting dish to try. You might not have an idea yet on how it taste like, so I will describe it briefly. It is a delicious and healthier chicken mami version that taste like chicken tinola. You can have it anytime of the day.
Ingredients
1 lb. Boneless chicken breasts
1 lb. fresh Miki noodles
1 cup fresh malunggay leaves
3 thumbs ginger, julienne
3 boiled eggs
½ small green papaya, sliced into strips
1 medium yellow onion
8 cloves garlic, pounded
1 Knorr chicken cube
5 cups water
6 tablespoons cooking oil
2 to 3 tablespoons fish sauce (patis)
¼ teaspoon ground black pepper
Instructions
Boil 8 cups water in a cooking pot.
Add the fresh Miki noodles when the water starts to boil. Let it stay for 20 to 30 seconds. Remove the Miki noodles from the cooking pot, drain the water, and arrange the noodles in individual bowls.
On a clean cooking pot, start to heat the oil. Add the garlic immediately while the oil is heating-up and let it brown while stirring. Continue to cook in medium heat until all the garlic pieces are medium brown. Remove the garlic from the pot. Set aside.
Using the remaining cooking oil in the pot, saute onion and ginger. Add the ground black pepper. Cook until the onion is soft.
Pour water. Let boil. Add the chicken breasts. Cover and cook in medium heat for 35 minutes.
Remove the chicken and put in a clean plate. Let it cool down. Shred the chicken and set it aside.
Add the chicken cube and green papaya into the cooking pot. Cover and cook for 10 minutes.
Add the malunggay leaves and fish sauce. Cook for 3 to 5 minutes.
Arrange the shredded chicken and egg on each bowl with noodles. Pour-in the soup with papaya and malunggay. Top with fried garlic.
Serve. Share and enjoy!
Binakol na Manok Recipe
This is a recipe for binakol na manok. It is a healthy chicken soup dish that resembles tinola, except that this is cooked using "buko". I am referring to young coconut water along with the buko meat. Binakol is a popular dish in Western Visayas, specifically in the province of Aklan and the nearby provinces.
Ingredients
1½ lbs. chicken, sliced into serving pieces
4 cups young coconut water
1 cup young coconut meat
1 cup hot pepper leaves
1 bunch lemongrass
1 large plum tomato, cubed
1 bunch scallions, cut into 3 inch length pieces
1 medium potato, cubed
1 medium yellow onion, chopped
3 thumbs ginger, crushed
1 Knorr chicken cube
1½ teaspoons salt
¾ teaspoon ground black pepper
Instructions
Rub salt and pepper all over the chicken. Let it stay for 15 minutes.
Arrange the chicken, onion, tomato, ginger, and young coconut water in a pot. Turn on the heat. Let boil.
Put the lemongrass in the pot. Cover. Cook in low heat for 40 minutes.
Add the potato. Cover and then cook for 10 minutes.
Put the scallions, hot pepper leaves, and young coconut meat. Stir. Cook for 5 minutes.
Transfer to a serving bowl. Serve.
Share and enjoy!
Sinampalukang Manok Recipe
Sinampalukang Manok is a sour soup dish composed of chicken , vegetables, and tamarind leaves. This chicken soup recipe is similar to Sinigang. The only difference is the use of tamarind leaves.
Ingredients
1 to 1½ lb chicken, sliced into serving pieces
2 cups fresh spinach
3 medium tomatoes, quartered
2 tablespoons fish sauce
1½ cups tamarind leaves
½ lb long green beans (or string beans)
1 medium Chinese eggplant sliced
1 medium onion, sliced
1 tablespoon sinigang mix (optional)
1 chicken bouillon
3 tablespoons cooking oil
3 to 4 cups water
Instructions
Heat oil in a cooking pot.
Saute onion and tomatoes.
When the onions and tomatoes becomes soft, add the chicken and then cook until the color of the outer part turns light brown.
Pour-in the fish sauce, and then add chicken bouillon. Stir.
Pour-in water and let boil.
Add tamarind leaves and sinigang mix powder. Simmer until chicken becomes tender.
Add the eggplant and long green beans. Cook for 5 to 8 minutes.
Put-in the spinach and cover the cooking pot. Let the cover stay for 5 to 6 minutes for the residual heat to cook the spinach.
Transfer to a serving bowl. Serve.
Share and enjoy!