Voices N Motion Canada Tour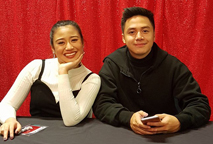 By: Myles Lucina
Both first timers in Calgary, Morisette Amon and Sam Concepcion gave the audience and their supporters an excellent show that surely wouldn't be forgotten. Morisette, The Next Big Diva and Sam C., The Absolute Performer (as they are dubbed and known for) stunned the crowd with their amazing personalities, incredible distinctive voices and high energy dance moves that clearly depicts their passion and love of what they do. Despite the very cold weather and jet lag, both artists were very professional to rehearse, show up on time, meet up with their supporters with a very warm smile and most importantly were able to give their best performances. They both performed amped up songs and were able to get the crowd on their feet and sang along with them which was believed to be the highlight of the night's show. Fans and even casual listeners seemed to be very familiar with their songs.
It is not very surprising that they are being compared to their idols, Sarah Geronimo and Gary Valenciano as they absolutely perform like them but of course they have their own distinctive styles that they have proven enough to the public. Morisette is not only being compared to the Philippines' Pop Star Princess, Sarah Geronimo but also tagged as the Mariah Carey of the Philippines because of her whistle prowess. In my interview with her, she revealed that she's not at all offended of being compared with the Pop Star. Both famous artists have been a great influence in her singing career and served as her inspiration in enhancing her talent.   On the other hand, Sam Concepcion is tagged as the next "Gary Valenciano" which is undeniably true and proven in his countless performances especially in the concluded first season of Philippines' "Your Face Sounds Familiar".
Morisette Amon competed in the first season of "The Voice of the Philippines" and is currently one of the ASAP's Birit Queens while Sam Concepcion has been in the limelight of show business since he was still a kid. He is not only a singer and a dancer but also an actor, theatre performer and the first Filipino artist to have collaborated with DreamWorks, an American Film Production. Both young artists are very professional, down to earth and friendly.
The show, "Voices N Motion" was held in Century Casino, Calgary on March 11, 2017. The show was produced by Fil-Can 2on2 Productions Ltd. headed by Ms. Connie Kriaski and Mr. Ricky Asuncion. The three-hour show was followed by a photo session and autograph signing with the artists. The show was also graced by some of the talented local performers namely Angelica Cruz, Chie Rizardo Verginiza and Dhon Del Rosario and was hosted by Mr. Lemuel Hayag. The production team did a great job fulfilling their duties which includes Nenejules Casuncad, Teofy Buluran, Sherry Anne Fulgencio, Roberto Ugaddan, Carlos Santillan, Marinette Mendoza, Edith Baes, Jelsey Baes, Mila Nebreja and yours truly, Myles Lucina. The success of the show wouldn't be possible without the help of the generous sponsors namely: SUNLIFE FINANCIAL, CREDIT 720, MARY ANN PAJARIN, REAL ESTATE EXPERTS, FOREX CARGO, UMAC EXPRESS CARGO, MDL IMMIGRATION SERVICES, ONWARD IMMIGRATION AND EMPLOYMENT INC. , ROC'S GRILL, ALEX TUMANG OF REMAX REALTY, CECILLE SANCHEZ OF QUANTUS MORTGAGE, BAMBI PASCUAL OF HELLO INSURANCE, BEAUTY ENHANCEMENT BY VANGIE FONS, NOYPI MEATS, POWERHOOPS, PINK RUBIES PHOTOGRAPHY, MANILA CONVENIENCE STORE, DENTAL HYGIENE, LARA MITCHELL OF ROYAL LEPAGE, SUNRIDGE NISSAN, LORIZ BAKERY, TFC THE FILIPINO CHANNEL, MS. JENNY BUNGAY
FOOD SPONSORS: MAMA NITA'S BINALOT, BARRIO FIESTA, TAMBAYAN AT KAINANG FILIPINO
MEDIA SPONSORS: PINOY TIMES, PINOY TIMES ON AIR 94.7 FM, CJSW RADIO PILIPINO, TV PILIPINO, STAR MAGAZINE
On behalf of Pinoy Times, thank you and congratulations to everyone who was involved in this successful project! Kudos!