Hank Kriaski, We're Gonna Miss You!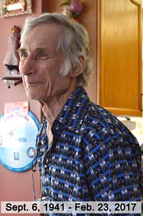 Every now and then, with the type of job I have, and being part of the Filipino Community, as well as my duties with Pinoy Times – I meet some very interesting and cool people! A few years ago I met a person that restored my faith that there are still good people in our world.
Seventy five years is a long time and a person can do a lot of things over that span. Whether Hank Kriaski was a father to you, husband, grandfather, co-worker or a friend – we will always remember him! Whether you saw him daily, or on the job or like my wife Ludy and I, maybe a dozen times, you quickly knew him as a kind, caring, honest and fun loving man.
Recently Ludy and I spent a very relaxing evening with Hank and Connie, doing what Hank and I both loved. We spent a beautiful summer evening in Hank's oasis – his backyard, under a shade tree, surrounded by his beautiful flowers and bushes. Not tainted by the problems outside our world, we thoroughly enjoyed each other's company. That is what life is all about.
God has Blessed us in just being able to meet someone that He both loved, and then took away. That is His plan for all of us. We can't change it.
For days after his February 23 passing and during his service on the March 3rd weekend, many tears were shed and will continue to be shed. Understandably, tears of sorrow for our loss, but also tears of joy! As we said "Goodbye Hank", our Father in Heaven, with open arms said "Welcome Hank, what took you so long?"
Rest in Peace Hank, your love for the beautiful things in life – gardening, painting and your loving wife Connie – are awesome examples for all of us to follow! The flowers you gave us will continue to grow in our gardens too; thank you very much! We love you.
Ludy and Steve Tarzwell