Movie Review: Kita Kita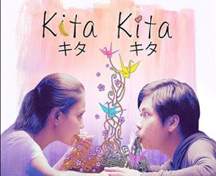 Novelty is something most local rom-coms take for granted
MANILA, Philippines – With a sole preoccupation to aggrandize romantic love following a tried-and-tested formula, there is actually very little wiggle room for filmmakers to flex their muscle and graduate the genre to be anything more than just escapist fodder. The most effective rom-coms are the ones that utilize every sliver of its novel elements to make the movie-going experience more enjoyable either by enunciating the film's clutch on fantasy or grounding it closer to reality.
Perhaps the most obvious novelty of Sigrid Bernardo's Kita Kita is to cast Alessandra de Rossi, an actress more known for playing serious roles, and Empoy Marquez, a comedian who has been type-casted to portray the comical sidekick to matinee idols who often lack any sense of humor, as the would-be lovers In a market that gives premium to prefabricated chemistry of its romantic leads who usually sport unrealistic if not aspirational good looks, De Rossi and Marquez's casting is quite a gamble. Miraculously, it does not only work, it actually helps carry the film amidst its insistence on following even the most grating of its genre's tropes.
Odd but delightful images
Kita Kita is about Lea, played by De Rossi, a Filipino tour guide living and working in Sapporo.
When Lea discovers that her Japanese boyfriend has been cheating on her, she goes blind. Tonyo, played by Marquez, suddenly makes an appearance. After days of hopeful Tonyo wooing desolate Lea with home-cooked meals, they finally connect, become friends, and develop a romantic relationship.
There really isn't anything new to the narrative, except that Bernardo, who also wrote the screenplay, has peppered the familiar storyline with as much whimsical details to add to the flurry of charming silliness that the film thrives on. She conjures odd but delightful images such as bananas dancing with hearts on a busy street or wide-eyed and unglamorous lovers slurping noodles in slow motion out of scenes that magnify the film's escapist intentions.
It's all very affecting, precisely because everything is defiantly good-hearted and idealist. Even in the film's saddest moments, there is always that tinge of glee that feels earned despite the film's reliance on narrative conveniences and other genre-specific machinations.
Endearing characters
Kita Kita is compact, briskly plotted, refreshingly light, and always delightful. De Rossi adds an essential mix of vulnerability and resolve to her character, making Lea endearing enough to make one root for her. Marquez, playing Lea's unexpected reward for suffering through heartbreaks and physical disabilities, is a revelation here. Without necessarily shedding his comic roots, he transforms into a viable romantic lead by sheer charm and charisma. There is never a false note in his performance.
Sometimes it takes just one piece of novelty to make a rom-com work more wonders than the mostly hollow pleasures that are related to the genre. Kita Kita pursued its novelty of molding captivating characters out of unexpected leads while creating around them a droll and exotic world where both hard heartaches and fast hope collide. It is buoyant, without being too eager. When it is time for sobriety from all the color and cheerfulness, it is almost impossible not to swoon. – Rappler.com