New Sunrise Senior Club Birthday Celebration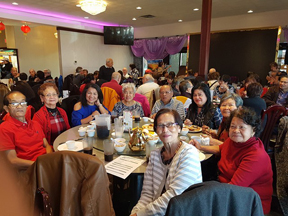 Most of the Filipino seniors' club association in Calgary celebrate their members' birthday quarterly.  The New Sunrise Senior club headed by Mr. Nestor Sun, the President of the club, with his executive committees and members celebrated their 3rd quarter birthday celebration at Eastern treasures China, 2825 32 Ave NE, Calgary, AB.  Different Filipino seniors associations and members were invited:  Golden Generation Seniors club, (Mr. Ben Isidro), Young Once Seniors Club (Mr. Pepe Siapno), Diamond Seniors Club (Mr. Gervie Pagsanghan), Filipino Canadian Seniors club (Mr. Celestino Bautista) and New Canadian Seniors club (Ms. Precy Atienza).  It was a fun filled afternoon with lots of food and good fellowship.  The camaraderie among them especially the leaders were solid and stable.
Kudos to all the officers and members of the New Sunrise Seniors Club of Calgary especially to Mr. and Mrs. Linda and Joe Bagay for their hospitality and friendship that will last forever.