Last Night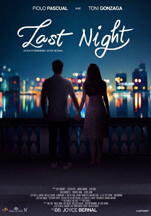 Movie Review By:  Teofy Buluran
We are so excited to watch this movie because this is the reunion movie of Piolo Pascual and Toni Gonzaga under the direction of Joyce Bernal.  As usual before we headed to watch the movie, we have to stop to our favorite restaurant and have a hot soup.  On our way to the cinema, I met a couple and I asked them, "How's the movie?"  The man said, "It's not the movie that I'm expecting from Piolo Pascual."   His comments fascinated my mind why did he say that? Hmmmmm, maybe it's boring? Or maybe it's not their type of story.
The film opens with Mark (Piolo Pascual) attempting to jump from a bridge in a bid to end his life.  His plans are foiled when he hears Carmina Salvador (Toni Gonzaga) hanging for a dear life by the few threads of her knitted sweater, screaming for help.  He helps her.  She thanks him.  Now bonded by a desire to commit suicide, they decided to spend the night together. The two spend the night in a hotel and then we see them jumping in a pool together with what seems to be weights at their backs.
They start roaming Manila thinking of sure ways to finish what they started.   Carmina Salvador saved a man from falling off the platform in a train station. Mark helped her to save the man.  The story seems boring because my friend sitting beside me is sleeping and I don't want to wake her up because she's sleeping like a baby.
Anyway, Piolo plays his character very well with all the requisite gestures that echo a total depression.   Toni maintains her engaging aura of a hopeless romantic that worked quite well for her in most of her other films. There are some twist in the movie and a bit confusing of what's going to reveal.
The two became suicide buddies attempting to do it multiple times but they are always failed. On their last attempt to do the suicide, they want to experience happiness and if they fail again, like how many times they did before, they would go separate ways.   Assisting each other's suicide attempts, ending up in a special somewhat of a relationship.
There are some twist in the movie and a bit confusing of what's going to reveal.
Last Night is still a good romantic flick.  I enjoyed it maybe because I love Piolo Pascual and Toni Gonzaga's love team.  It has a clique needed for a love story, from its fun dialogue to its tended moments.  A little bit lacking in its thriller component but at the end, the movie gives me an insight of what Piolo and Toni stated during their interview.  Piolo stated that this movie has a more positive message of hope.  "There are many reasons to die, but there can only be one reason to live" that's their focus. Toni added; "We do not want to focus on death, we want to focus on life and love".
Bela Padilla, the scriptwriter shared that she wants people to realize that there's always hope in life.
Pascual and Gonzaga portray people who they said are in their "darkest" and "lowest" point of their lives.