FILIPINO POLITICS IN CALGARY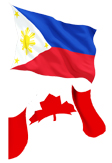 By: Tigs Tidalgo
The Filipino Seniors Structure in Calgary of six coordonated associations of about 1500 members would not have seen the light of day without a helping hand from the Alberta provincial government through the kindness of favoured elected politicians.
The quotation above is frank and bold. I am citing it here because it inscribes how politics play its role to cultural communities in Calagry. It also implies as to what expectation may come about if we continue to harbour self wanting towards the process of electing someone from our own community.
The pros and cons of politics are precisely based on how we make of it. Our primary setback is from our stiffness to participate. We are still fearful that politics is politics wherever we are. It is in our failure to collectively engage that we fall short. This is primarily the reason why we lag badly behind in community development.
We need to accept reality. Politics is not a game. It defines our future and determines our values. We could employ our kipit-bisig spirit into it. This is where we are seriously listened to also avail with initiatives that we too are entitled. Our cohesiveness is where we are respected. It is basically correct to postulate that unity amongst us is relatively proportional to the prosperity of our community.
.
We are already noted with excellence in showing our culture through dances, parades and songs etcetera. This is good. But it is not enough. We must go farther beyond to mingle correspondingly with society to share equally both in task and merit. This is of being Canadians. It has its gain and yes, it certainly includes politics.
I open my ears keenly to conversations at coffee shops, food courts and anywhere where Filipinos converge. I want to know by heart their views on politics. In between colourful expressions, I learn what they have in mind. There are varied assertions, but with one common deduction. Unlike other major cultural groups, we are terribly fractionalized into individual directions. It is true that we have the numbers, but we lack the ingenuity to secure ourselves into focus.
It is on this regard that our community is not politically significant. It has neither the substance nor the weight worthy enough to be seriously considered. It is politically redundant that no one cares about it anymore. It becomes annoying for anyone to talk about. It is kept away as a plague. We are hesitant to participate and even at times neglectful to exercise our right to vote. Painful as it is, but this is what we still are today.
Can we turn this around? Yes, we can. We could take our seniors as example. With effort and patience, we may also have a chance to gain what is appropriately essential. I know that this is wishful thinking. But what is there to waste? Politics is an integral component of our system and practicality necessitate us to partake.
It was not easy for our leaders to bury their pride and bowed their head to ethnic seated politicians. They pleaded for what was necessary to unshackle the adversity of our community. They did it despite humility and at times even angry that there was no one with right position and distinction to lean on. This time we can measure our worth by supporting a candidate of our own flesh and blood.
Yes, the open door is again availing. After 25 years of dormancy in the provincial and federal politics, a Filiipina by the name of Sherrisa Celis challenges to be a candidate for MLA in Calgary.
Many are wondering as to why we can not have our own elected public officials. The answer is simple but irritating. We were not unified then and neither are we now. The difference however is our present numbers. There are so many of us already and maybe our fundamental needs may have encouraging persuasion towards the understanding that it is in unity alone that our community will prosper.
LET'S SUPPORT SHERISSA CELiS. SHE IS OUR COMMUNITY 'S    CANDIDATE FOR MEMBER OF THE LEGISLATIVE ASSEMBLY (MLA} OF ALBERTA UNDER THE CONSERVATIVE PARTY.